Hundreds Expected for District Peace Walk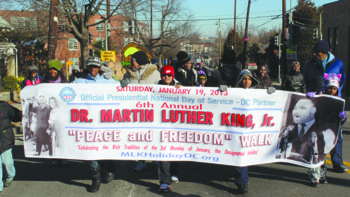 In keeping with Dr. Martin Luther King Jr.'s rich vision of equality, justice and peace, thousands of people from communities and organizations will soon gather in cities across the country for their annual Peace Walks in commemoration of the slain civil rights icon.
The walks which are touted as a "Day of Peace," will be held on Monday, Jan. 20 and include parades while also paying homage to other civil rights leaders. In addition, the events will feature a host of speakers and community outreach activities to communicate the importance of celebrating the national Dr. Martin Luther King Jr. holiday.
"This is our seventh year of involvement with the Peace Walk," said Wessita McKinley founder of Sistas United, one of several community organizations participating in the District's celebration. "Last year, along with students from the University of the District of Columbia, we also created a Freedom Walk where we replicated Dr. King's march across the [Edmund] Pettus Bridge [in Selma, Ala.,] by walking across the Woodrow Wilson Bridge [in nearby Northern Virginia]."
Mayor Vincent C. Gray said in a previous interview that King – who would have turned 85 on Jan. 15 – would be among the front-liners in the District's struggle for statehood.
"He would be deeply disappointed and depressed about the gun violence in our society," said Gray, 71. "It is a travesty what is going on in our country but the question is what are we going to do about it?"
Locally, the march to honor King began in the 1970s by Calvin and Wilhelmina Rolark, co-founders of The Washington Informer, along with television and radio talk-show host Petey Greene. It has since evolved into an annual event that's attracted support from national civil rights leaders and film and television personalities such as Nick Cannon, who served as grand marshal for last year's parade.
This year however, marks the District's seventh annual presentation of King's historic protest from Selma to Montgomery. The march begins at the United Black Fund building on Martin Luther King Jr. Avenue in Southeast, with the parade of marchers winding their way to Covenant Baptist Church several blocks away.
"Martin Luther King Jr. was a peacemaker for mankind," said McKinley, 48. "Therefore, this year we're celebrating global peacemaking, which will include tributes to Nelson Mandela, Mahatma Gandhi, Nobel Peace Prize winner Wangari Maathai, and Malala Yousafzai, the defiant 16-year-old Pakistani girl whose advocacy for education made her the target a year ago of a Taliban assassination attempt.
McKinley said that about 1,000 people of all races, genders and economic backgrounds are expected to participate in the District's walk.
"We just want mankind to come together collectively to show homage to Dr. King and all that he's done, as well as to try to create peace in a world that's in so much disarray," McKinley said, referring to issues of ongoing concern. "We want to bring attention to the thousands of people without jobs, reductions in food stamp benefits, increased crime rates and other matters that are ongoing in this country."