MLK Event Empathizes with Downtrodden in India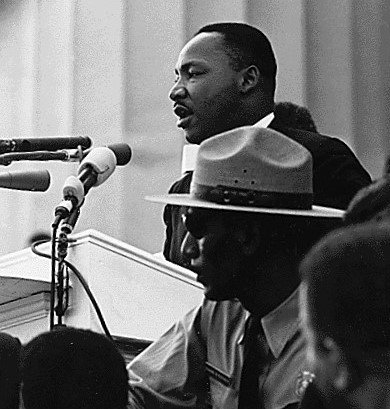 Martin Luther King Jr. possessed more than just a dream.
The civil rights champion displayed empathy not just for fellow African Americans, but any individual or group weighed down by oppression.
To honor King's legacy and what would have been his 85th birthday on Wednesday, Jan. 15, a prominent group of African Americans are calling for an end to the oppression of those known as Dalits in India with a "Declaration of Empathy" signing event at the U.S. Capitol in Southeast.
"The Quander family, like other African-American families, still feels the pain and sting that institutional discrimination visited upon us," said Rohulamin Quander, 70, president of the Quander Historical Society, in Northwest.
"With this, 'Declaration of Empathy,' we stand in solidarity with the oppressed Dalit people in India. Until they are free, none of us is, indeed, free," said Quander, a retired administrative judge who worked at the Office of Employee Appeals in Southwest. Quander's family can trace its lineage back 300 years in Maryland and Virginia and are considered to be the oldest free African-American family whose ancestors once were slaves.
The Jan. 15 event also will include other African-American legacy families, descendants who directly experienced unspeakable degradation and brutality during the dark days of U.S. slavery.
The participating families include relatives of Frederick Douglass, Booker T. Washington, Thomas Jefferson, Benjamin Banneker and Solomon Northrup, whose autobiography became the subject of the critically-acclaimed 2013 film, "12 Years a Slave."
"Despite numerous laws enacted for the protection and betterment of the Dalits, they are still considered outcasts in Indian society and treated as such," said Rep. Eleanor Holmes Norton (D-D.C.), who in 2007 help sponsor a House resolution expressing a sense that the United States should address the ongoing problem of what is called, "untouchability," in India.
"In practice, Dalits are frequently denied equal treatment under the law," said Norton, 76.
Dalits, who number 167 million or 16 percent of the population in India, are restricted on where they can live and what jobs they can have.
Within the Dalit community, they are divided into leather workers, street sweepers, cobblers, agricultural workers, and manual scavengers, who are considered only for tasks such as digging village graves, disposing of dead animals and discarding human waste.
As a result, many Dalits are impoverished, uneducated, and illiterate.
"The principals of untouchability and purity and pollution dictate what Dalits are and are not allowed to do," said Dr. Vinod Sonkar, one of the rare Dalit community members to find career success.
"Unfortunately, the Indian government, made up of the upper castes (wealthy), has convinced the international community that caste discrimination is an internal, cultural issue. But, the truth is, it affects the very way this country is run," Sonkar said.
A human rights defender, King visited India in 1959 and reportedly the trip deeply affected his understanding of civil resistance.
At that time, the civil rights leader told the media that he'd become more convinced than ever before that the method of nonviolent resistance counted as the most potent weapon available to oppressed people in their struggle for justice and human dignity.
As lead-in to the Jan. 15 event, Howard University's African American Studies Department planned a round table discussion where topics explored included prior efforts of Dalit individuals and organizations to reach out to black Americans.
Each of the participants in the "Declaration of Empathy" signing is hoping to magnify and draw upon the courage and conviction of King, Quander said.
"Dr. King reflected upon his journey to India, and acknowledged the parallel between African Americans and the Dalits," he said.