National Action Network Rejuvenates Anti-Gun Movement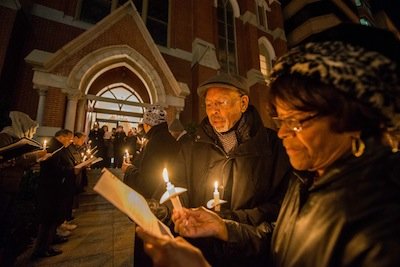 After the panel discussion, community members gathered on the front steps of the church where they lit candles, paid tribute to others, whispered prayers, and pledged to do their part in ending gun violence. Samantha Master, youth and campus assistant at the Human Rights Campaign, a Northwest-based national LGBT civil rights advocacy group, expressed her hope that future discussions would include the marginalized group.

"I'm always struck by who is not at the table," said Master, 25. "We need the queer voices as well as the perpetrators of gun violence. There is an important conversation that we need to have to stop the flow of violence from identifiable social causes like poverty, trauma, and abuse," said Master who lives in North East, Md.
Lennox Abrigo, president of the D.C. chapter of NAN, led a short prayer at the vigil. He said that the peaceful gathering of dedicated anti-gun advocates signaled what has yet to come for the civil rights organization's crusade against inner-city gun violence.
"This church reaches out to the community so [seeing] the candle light vigil take place on these steps is beautiful," said Abrigo, 60, also senior pastor at Seventh-Day New Covenant Ministries in Germantown, Md. "NAN's D.C. chapter is made up of [District residents]. They are the grassroots arm of this organization. This is the beginning of an intervention of gun violence that will take place in this city," said Abrigo who lives in Germantown, Md.