Push to Raise Minimum Wage Gains Momentum
Braveboy Introduces Bill to Raise Hourly Wage to $10.10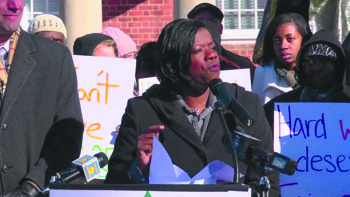 A Maryland lawmaker is poised this week to introduce legislation that would raise the state's minimum wage to $10.10 by 2016.
Del. Aisha Braveboy, 39, (D-Dist. 25) of Mitchellville said she is introducing the legislation in the Maryland House Economic Matters Committee, a subcommittee in the Maryland General Assembly, which would renew attempts by state democrats to raise the minimum wage.
Efforts to raise the minimum wage stalled last year in the state Senate Finance Committee after being voted down.
"There was a desire to have it happen this year and not last year," said Braveboy, who is also running for the attorney general's office.
As state legislators head back to Annapolis this month to start the 2014 legislative year, Maryland Gov. Martin O'Malley (D) said he would seek an increase in the state's minimum wage, which is set at $7.25 per hour
"There's still many families in Maryland who have not come through those hard times," O'Malley said at a state luncheon last week.
A push to raise the national minimum wage, also set at $7.25 an hour, has been gaining momentum. Locally, jurisdictions have formed coalitions to address low wages.
In November, the Prince George's County Council HYPERLINK "http://washingtoninformer.com/news/2013/dec/04/pg-county-approves-minimum-wage-increase/"unanimously approved legislation to bump the wage to $11.50 by 2017. The law mirrored similar legislation in Montgomery County and the District to phase in gradual hikes to current wages by more than a dollar a year in the next four years.
Though Maryland has the nation's highest median household income, according the U.S. Census Bureau, the District and 21 other states have higher state minimum wages.
Last year, Prince George's County Council members said they couldn't wait on state legislators to raise the minimum wage.
"We can't guarantee what [the state legislature] is going to do, anything can happen between now and April so why wait?" said Councilwoman Andrea Harrison, 50, (D-Dist. 5) of Glenarden in November.
Braveboy said despite progress in Prince George's and Montgomery counties, other jurisdictions in the state could still benefit from raising minimum wage.
"I knew we needed to do this before it was popular," she said. "There are 20 more jurisdictions in the state – the work is hardly over."
Still, not everyone is in a rush to have the minimum wage raised on the state level.
Octavia Caldwell of Fort Washington said she is part of a group of business owners in Prince George's County. She said raising the state's minimum wage could make Maryland less competitive.
"I do feel there is a need to raise the minimum wage. I'm not sure the time [is right]," she said. "My preference as a business owner is that it happens at the federal level … As a business owner, I look at the cost of doing business in Maryland."
Others said that raising the state's minimum wage is long overdue.
"I think they need to raise the state's minimum wage, who can live off of $7.25?" said Ivory Smith, 24, of Randallstown who was a hiring manager at Abercrombie & Fitch in Towson.
Still, Smith said paying $10.10 could force some retailers to lower their staffing goals.
"I don't think [employers] would lay people off but rather cut back on hours and have less people work [during shifts]."