Actress Kym Whitley Chooses D.C. Interior Designer Via Social Media
1/16/2014, 11 a.m.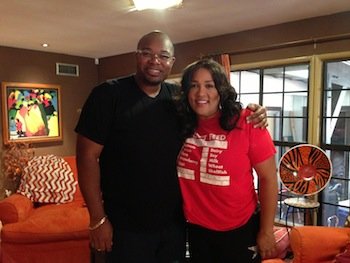 WASHINGTON — What started as a casual encounter via social media, turned into a serendipitous opportunity for Trystin Kier Francis, principal and chief of design, Trystin Kier Company, to redesign actress and comedienne Kym Whitley's Los Angeles home.
Francis began his conversation via Twitter, advising Whitley that he wanted to decorate her home and later referencing his website to share additional details on his creative arts design firm based out of Washington.
"Design! Design! Design! How I love great design and good people! @KymWhitley I love your show and would love to decorate your beautiful home," Francis tweeted.
Francis says, "Never did I think she would respond, and two months later, I was in her home working on the biggest project of my career."
His inquiry piqued the interest of the star of the Oprah Winfrey Network docuseries "Raising Whitley," and from there, blossomed into their current business relationship. In addition to designing Whitley's home, Francis will also make an appearance on Whitley's show.
"I admire Kym for being a courageous mother and advocate for issues that effect women and children. I'm so honored to give her the Trystin Treatment," Francis said.
As a 2004 graduate of Benedict College, Francis takes the school's mission, "Be a power for good in society," to heart. He is an adept philanthropist, working with and giving to several charities and organizations such as the Washington Youth Choir and the Arthritis Foundation. A native New Yorker and the son of Panamanian immigrants, Francis is a recipient of the Envest Foundation 2013 top "40under40" award, winner of the Washington City Paper Best of D.C. 2013 "Best Interior Designer" and Radio One 2011 "Top 30 Under 30″ award. Francis has also been ranked among Washington elite as a 2013-2014 member of "Who's Who in Black Washington, D.C."
Francis is one of the most notable, young professional designers on the East Coast. He is known among the Washington insiders as the "48-hour designer" for his rapid redesign of D.C. Mayor Vincent Gray's executive office suite in 2010. Francis has an impressive professional background, having rubbed shoulders and worked with some of the world's biggest names in entertainment and politics, formerly as an event designer.