D.C.'s Lamont Peterson to Defend Title in Hometown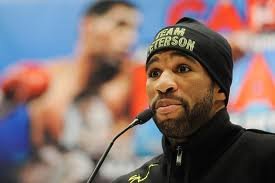 IBF junior welterweight champion and D.C. native Lamont Peterson will defend his title against undefeated Dierry Jean on Jan. 25 at the D.C. Armory.
Peterson, who turns 30 the day before the fight, hasn't fought since May, when he was dropped three times by Lucas Matthysse and ultimately suffered a 3rd-round knockout loss. It was a non-title fight, allowing Peterson (31-2-1, 16 KO) to maintain his championship belt despite the loss.
Jean (25-0, 17 KOs) also last fought in May, defeating Cleotis Pendarvis via fourth-round TKO. Coming off such an impressive showing, the Haitian-born Quebec resident is confident that he'll leave the District as the new IBF junior welterweight champion. The 31-year-old challenger vowed to "remind" Peterson of "that nightmare that he had" in his fight against Matthysse.
Most boxing fans are largely unfamiliar with Jean and don't know quite what to expect from him in the upcoming bout. But his unbeaten record has sparked a great deal of interest, including from Peterson.
"I didn't know much about Dierry Jean when the fight was announced. He's a pretty good fighter, but at this level when you fight for championship belts, I've done it and he never has," Peterson said. "I know the first time fighting for a world title was more difficult than I thought. I'm expecting him to stumble because of the bright lights and the type of pressure. People don't normally deal with it well."
Peterson has certainly been in the ring with top-flight competitors in the past. In December 2010, he fought former welterweight champ Victor Ortiz, earning a draw despite being knocked down twice in the third round. He won a controversial split-decision over Amir Khan in December 2011, and in February he scored an eighth round knockout of former titleholder Kendall Holt.
With only ten days until the fight, Peterson said he'll gradually decrease the intensity of his physically demanding workouts and shift his focus to being mentally prepared for what could be a very challenging bout.
"I never really left the gym since my last fight. I've been doing a lot of strength and conditioning, although at this point it's mostly boxing. Right now, I'm working on the game plan and making sure I execute when I get in the ring," he said.
Prior to his last fight, Peterson had only been knocked down three times in 33 pro bouts. However, in his last bout, Peterson was simply overwhelmed. Matthysse pressed him from the opening bell and never allowed Peterson to really get going. The native of Argentina dropped him once in the second round and twice in the third. The final knock down occurred when Matthysse landed a left hook with 46 seconds remaining in the third round. Peterson fell backward into the ropes before going down. Referee Steve Smoger stopped the fight, sparing Peterson additional damage. It was the first time in his pro career that Peterson had been stopped.
The defending champion is quick to point out that fighting in front of his hometown fans will give him a competitive advantage and extra motivation.
"It's always a great thing to fight at home. When the crowd is cheering for you, it gives you the extra energy to pull out the close rounds and close fights. I'm glad to be fighting at home," Peterson said.
The winner of the Peterson-Jean bout will be well-positioned to face a quality opponent from a stable of Golden Boy fighters in the super lightweight or junior welterweight division, including Matthysse or WBA/WBC super lightweight champion Danny Garcia, who won a unanimous decision over Matthysse last fall.
After having been stopped by Matthysse, does Peterson feel that he needs a knockout against Jean?
"I try to put that [loss] behind me," he said. "Boxing is for a thinking sportsman. It's not a sport where you should be letting those things get to you. You have to fight smart and the best way to do that is to clear your mind."