CBC: Obama Must Act Decisively in 2014
Historic Congressional Organization Targets Poverty, Unemployment
Stacy M. Brown | 1/17/2014, 7:34 p.m. | Updated on 1/22/2014, 3 p.m.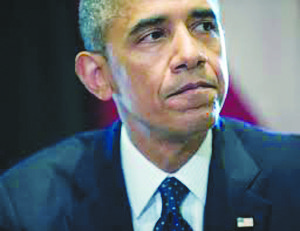 Members of the Congressional Black Caucus have declared 2014 a pivotal year in the fight against poverty in the African-American community and have vowed to press for new and improved job opportunities while also remaining vigilant in helping to push for the confirmation of black judicial candidates.
While President Barack Obama promised that the next 12 months will be a period of action where he'll help create new jobs for the middle class, the Congressional Black Caucus (CBC) has set a bulls-eye on the two-term president and appears prepared to call him out if his promises go unfulfilled.
Members are particularly leery of some agreements Obama has made that have led to less desirable judicial candidates being confirmed.
"We see the president appearing to make deals allowing people with anti-civil rights records to be appointed judges under his watch and we have concerns, particularly in Georgia because there are those who will get on the bench and will vote against the president's agenda," said Rep. Eleanor Holmes Norton (D-D.C.).
Like President Bill Clinton before him, Obama granted Norton senatorial courtesy to recommend candidates for federal district court judges in the District of Columbia. 
The congresswoman's recommendation of Christopher Casey Cooper from a number of candidates screened by her Federal Law Enforcement Nominating Commission, proved successful earlier this month when the Yale College and Stanford University graduate received unanimous approval by the Senate Judiciary Committee to become a judge on the U.S. District Court for the District of Columbia in Northwest.
An African-American, Cooper moved his family several years ago from the District to London, where he joined the firm of Baker Botts, and in 2012, he returned to Washington, D.C., to become a partner at the law offices of Covington & Burling in Northwest.
"Casey Cooper's outstanding background and broad criminal and civil experience should make his confirmation a sure thing," Norton said.
"I have every confidence that he will continue along the path of excellence that has characterized his entire career."
Fifty-five African-Americans have been nominated for judicial appointments by Obama since he took office in 2009, but only 42 have received Senate confirmation, said Rep. G.K. Butterfield (D-N.C.), who called the ratio a staggeringly disappointing percentage.
Butterfield said there are also 36 vacancies at district court as well as several at the appellate level and the CBC continues to push for qualified African-Americans to fill those posts.
"The problem we have is that Republicans continue to block these appointments and we would hope that the president will be less conciliatory to the Republicans, especially in the 11th circuit and the 4th circuit," said Butterfield, 66.
"It's critically important to have African-American judges both at the trial level and appellate level and we've been encouraging the White House along those lines, President Obama in particular," he said.
Butterfield, Norton, CBC Chair Marcia Fudge (D-Ohio) and Rep. Barbara Lee (D-Calif.) hosted a media conference call on Wednesday, Jan. 16, to discuss their concerns about judicial appointments and other pressing matters that are part of the caucus' 2014 agenda.