CBC: Obama Must Act Decisively in 2014
Historic Congressional Organization Targets Poverty, Unemployment
Stacy M. Brown | 1/17/2014, 7:34 p.m. | Updated on 1/22/2014, 3 p.m.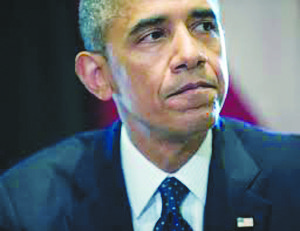 During the call, each expressed grave concerns about the poverty facing so many African-Americans in the United States.
"Oftentimes we forget that there are four in 10 African-American children who live in poverty and the unemployment rate, which is nearly 12 percent in the African-American community, is a disgrace," Lee said. "Even African-Americans who have jobs are more likely to be in the low wage sector while the majority relies on [food stamps] and Medicaid."
Lee noted that the CBC continues to advocate and work toward raising the federal minimum wage from $7.25 per hour and to establish a living wage.
"We are working on a bill that, if successful, will see poverty cut in half within 10 years," she said.
Fudge said it's paramount that Obama's agenda for 2014 include concrete policies that will help eliminate poverty in African-American communities and establish jobs for black men and women who continue their struggle to recover from the Great Recession.
"In every single report, African-Americans have lagged behind everybody else. So, I'm just hopeful that we don't fall any further behind than we already have," Fudge said. "But, I know that we need to do more, no matter what the numbers show, to target communities of color and high poverty to make sure we can get them back to work."
CBC members also listed education among their priorities for the upcoming year.
Lee said the cost of college should not be a barrier to higher education.
She said she continues to be a strong supporter of federal investments in education, including protecting access to higher education through grants, low student loan rates, and student loan forgiveness.
"We are looking at how to reduce and eliminate barriers and to make sure our historically black colleges and universities receive the resources they desperately need," said Lee, who added she also remains committed to protecting funding and access to after school programs and to increase funding for Head Start.
"It is time that our policy and funding priorities take a new direction for our children," she said.
"That means investing in education. When we do that, we invest in our future."