D.C. Schools Officials Launch Website for Enrollment Lottery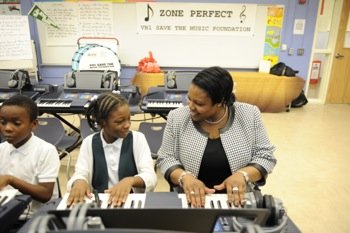 For years, the enrollment process for students at public schools in the District has been fraught with chaos and frustration, resulting in many being restricted from attending the school of their choice.
But for this fall, administrators from D.C. charter schools and the city's office of the deputy mayor for education have launched a website to make the process easier.
After working since May to get Myschooldc.org operational by Dec. 16, officials describe the site — which has already attracted more than 10,000 visitors — as a central clearinghouse of information for students and parents to rank and select schools according to their preference.
"This past summer, I committed to families that I would work to simplify the process for getting their students into the District's public schools," Mayor Vincent C. Gray said. "The launch of the common lottery system is a giant leap in this direction. The common lottery will not only make it easier for families to apply, but it will also increase the number of families who get a seat at a school of their choice well in advance of next school year."
The family-friendly site was launched to the tune of a first-year budget of $1.4 million, the bulk of which was provided by the New Schools Venture Fund, a California-based philanthropic organization.
"The common lottery and My Schools DC represents collaboration that is great for DCPS and great for our city," said D.C. schools chancellor Kaya Henderson. "It makes the out-of-boundary process more clear, which often creates stress for schools and families. I am hopeful this will allow more families who choose to participate in the lottery to get a seat at a school of their choice and have the information they need to help ensure a successful school year for their student."
By logging on the website, students and their parents can apply for slots at all District out-of-boundary schools and at about 40 of the 58 public charter schools. So far, more than 1,000 applications have been submitted.
"We're excited that so many D.C. charter schools have chosen to participate in a common lottery," said Scott Pearson, executive director of the Public Charter School Board. "I expect that My School DC will simultaneously make enrollment season easier for families and for schools."
The deadline for participating in the lottery is Feb. 3 for high school students. Early-childhood, elementary and middle school selections should be submitted by March 3.