Magic Johnson 'Aspires' to TV Greatness
Former Lakers Stars' New Network Doing Well
Stacy M. Brown | 1/17/2014, 12:16 p.m. | Updated on 1/29/2014, 3 p.m.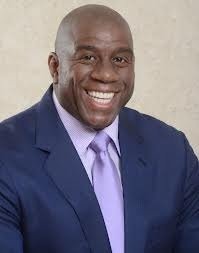 Nearly two decades after he starred on the hardwood, Earvin "Magic" Johnson has proven to be a force to reckon with inside the boardroom.
As a youth, the legendary Los Angeles Laker said he's always aspired to the same greatness off the court that he achieved while playing basketball.
That aspiration counts as no easy task.
The Magic Man, as he's affectionately known, proved to be a standout high school basketball player who went on to become a first-team All-American at Michigan State University where he helped the Spartans win a national championship.
Johnson's Hall of Fame pro career remains among the most mesmerizing ever.
He led the Lakers to five world championships and he earned three regular season Most Valuable Player awards, three playoffs Most Valuable Player awards and he won an Olympic gold medal as part of the original "Dream Team" in 1992.
Now, the basketball great with the effervescent smile, has expanded his vast business portfolio with the launching two years ago of ASPiRE, a television network geared toward bringing positive programming to audiences in the African-American community.
"When I was growing up, there was a lot of family programming and we used to sit and watch television together whether it was 'The Flip Wilson Show,' 'Good Times,' or 'The Jeffersons,'" said Johnson, 54.
"We had lots of shows with family-oriented content and for African Americans today, when we did our homework and our research, we found that African Americans wanted more family-driven content, so I got involved and created ASPiRE."
The new network, which regularly airs re-runs of the "Flip Wilson Show," and other programs, broadcasts in the Washington Metropolitan Area on Comcast channel 120.
With ASPiRE, Johnson adds to a business portfolio that stands out as one of the most stunning in the country, if not the entire world.
He owns or sits as part-owner of the Los Angeles Dodgers, a baseball team that's valued at more than $1.6 billion.
The former 12-time All-Star also has a stake in Canyon Johnson, a $1 billion real estate fund; Yucaipa Johnson, a $500 million private equity fund; SodexoMAGIC, Magic Airport Holdings, Best Buy, T.G.I.F. Friday's Restaurant, Inner City Broadcasting Corporation, Detroit Venture Partners, and Vibe Holdings, LLC.
Also, he's chairman of the multi-cultural media company that houses Vibe, Uptown, and Soul Train brands.
Most noted for his Magic Johnson movie theaters and his unprecedented Starbucks partnership, which served as a catalyst for redevelopment in many urban communities, in 2010 Johnson divested his Starbucks and Lakers' shares, for more than $100 million.
While he continues to assist Starbucks with the company's community development initiatives, Johnson's ASPiRE television network counts as a launching pad to another one of the superstar's goals.
He said he's chasing Robert Johnson, the legendary founder of Black Entertainment Television, who also once owned an NBA franchise.
"I've always wondered what it would be like to be on those lists of best businessmen like Bob Johnson," Magic Johnson said.
"With ASPiRE, the Magic Johnson brand goes from 30 states and 120 cities and becomes a national brand. This is a way to get a whole lot of eyeballs."