Magic Johnson 'Aspires' to TV Greatness
Former Lakers Stars' New Network Doing Well
Stacy M. Brown | 1/17/2014, 12:16 p.m. | Updated on 1/29/2014, 3 p.m.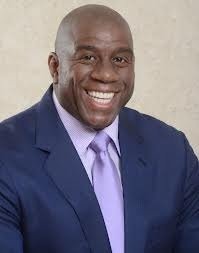 Near the end of Johnson's playing career in 1991, he announced that he had contracted the HIV virus, which causes AIDS.
Johnson said that he's fortunate that more than two decades later, he's healthy, feeling good, and continues to help spread the word about the disease, particularly in the African-American community.
The Magic Johnson Foundation began in 1991, shortly after Johnson's stunning announcement that he had the virus.
Foundation officials, led by the basketball star, have continually provided resources and grants to help fight HIV/AIDS.
Johnson has helped to provide more than 350 youth with resources and support through a scholarship program and Johnson said his community empowerment centers that are located in various areas throughout the country have served over 245,000 disadvantaged youth.
The empowerment centers also have awarded over $3 million in hardware and software grants, $250,000 in online learning scholarships, and, through its "I Stand with Magic," campaign, the foundation has signed up more than 90,000 individuals in the fight against HIV/AIDS.
"First of all, God has blessed me," said Johnson. "I have leaned on my faith and a lot of the medications are great and I adhere to that and I have also leaned on the love of my parents, my beautiful wife and our three children."
Johnson said he works out five days a week, maintains a positive attitude and, with advancements made in medicine, he's been able to remain healthy.
"We have so many minorities coming down with HIV and we've got to do a better job of educating our community and getting tested," he said.
"I was also fortunate that my illness was detected early and of course you wonder why something like this has to happen to you, but I got out of thinking that way early and I said I wanted to live for a long time. Now, I have grandchildren and I want to see them grow up."
As for his business ventures, Johnson said he's as competitive in the corporate world as he had been in sports.
He said he has grand plans for his new network and viewers should stay tuned.
"I see ASPiRE still being on the air years from now and I see, in probably three or four years, us having all original content," Johnson said.
"We will still be providing family driven content and we will expand and grow which has been my strategy. I love where the network is right now and we will continue to build on that."