Ward 8 Dems Lean Toward Bowser in Straw Poll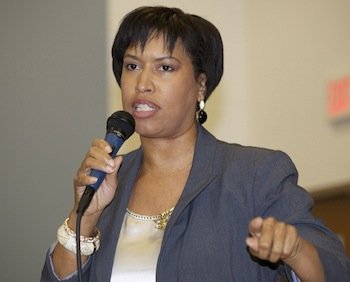 The results of a mayoral straw poll held by one of the District's most influential Democratic clubs shocked many political observers and activists when incumbent Vincent Gray failed to get the most votes.
D.C. Council member Muriel Bowser (D-Ward 4) bested Gray (D), 127-94, on Saturday, Jan. 18 at Turner Elementary School in Southeast, a surprising result considering that Gray, 71, lives in neighboring Ward 7 and has a lot of support among seniors in Ward 8.
"I am really grateful for the Democrats in Ward 8," said Bowser, 41. "The Democrats spoke with one loud voice and what they want is a fresh start."
The Democratic mayoral primary will take place Tuesday, April 1. The Ward 8 Democrats is considered a bellwether in terms of who the next mayor could be. In 2010, Gray won the Ward 8 Democrats' nod and defeated incumbent Mayor Adrian Fenty in the September primary.
D.C. Council member Vincent Orange (D-At Large) got the next-largest bloc of votes, with 40, followed by District entrepreneur Andy Shallal and D.C. Council member Tommy Wells (D-Ward 6), both of whom garnered 13 votes. D.C. Council member Jack Evans (D-Ward 2) and former State Department official Reta Jo Lewis got 10 and two votes, respectively.
Ward 8 Democrats President Natalie Williams said that a candidate needed 60 percent of the votes to get an endorsement. In this case, a candidate needed 184 votes out of a whopping 308 legitimate ballots.
While the Democrats cast their ballots for their favorite mayoral hopeful, a candidates' forum took place, where Gray touted his record of managing the city's explosive growth while working to help the poor.
Bowser talked about her desire to create a position of deputy mayor for eastern Washington and the need to speed up school reform so that it can reach Ward 8 schools. She also promised an open and ethical government.
Orange, 56, reminded the crowd that he worked the longest to get an increase in the city's minimum wage, quoting a Ward 8 icon to make his point on why he should be the next mayor.
"If it is to be, it is up to me," Orange said, referring to the late Washington Informer Publisher Calvin Rolark's famous statement.
Shallal, 59, said that Ward 8 is a prime example of the failing end of a tale of two cities.
"We have some of the wealthiest people in the country who live in this city but we also have one of the country's highest child poverty rates," he said.
Evans, 60, talked about his 20-plus years as a member of the D.C. Council and how he has worked to improve the economic condition and the lives of residents throughout the city. Wells, 56, said that he will always fight for what he believes is right and criticized Gray for closing neighborhood schools.
Lewis, 62, said that she will fight for good schools and ethical government.
D.C. resident Carlos Allen, who got no votes from the Ward 8 Democrats, talked about how expensive it is to live in the District and what he plans to do to change that.
The two-hour forum often got heated as some Ward 8 residents loudly heckled the candidates, particularly Gray.
Schyla Poindexter-Moore, 47, who lives in Southeast, verbalized her problems with the candidates because she felt that they are not serious about helping the people of Ward 8.
"D.C. stands for Discrimination City," Poindexter-Moore said. "This city is no longer for the poor and the disenfranchised."
Former D.C. Council member Sandy Allen voted for Gray on the basis of his job performance.
"Vincent Gray is my man," she said.
However, Anthony Lorenzo Green, the advisory neighborhood commissioner for single-member district 8B04 and a Bowser supporter, said that it is time for a new mayor.
"We are tired of the old ways," Green, 28, said. "We are tired of dealing with these ethical questions. While I am proud of the way that Gray has run the city I like Bowser's message."