Wizards Celebrate MLK's Legacy With Panel
1/20/2014, 5:21 p.m.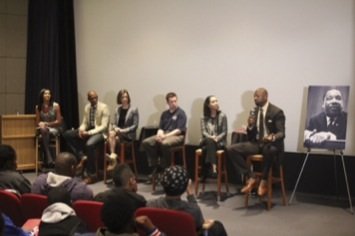 The Washington Wizards celebrated Martin Luther King Day with an interactive panel discussion for 50 high school students prior to the Wizards' game against the Philadelphia 76ers on Monday.
The discussion focused on King's legacy and its relevance to the world today.

Broadcaster Christy Winters Scott led the diverse panel that featured Wizards forward Al Harrington, D.C. teacher Julia King, former Wizards player Tony Massenburg, Washington Mystics assistant coach Eric Thibault and Dr. Marcee White of the Children's National Medical Center.
"It was my honor to take part in the panel," Harrington said. "I hope that by sharing my story and my dreams, I was able to help the kids who attended today's event."