Annual MLK Peace Walk Honors Icon's Legacy
James Wright | 1/21/2014, 10:49 a.m. | Updated on 1/22/2014, 3 p.m.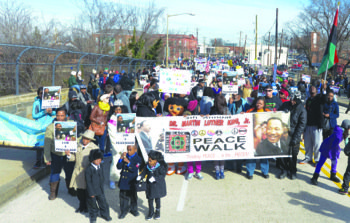 Hundreds of marchers participated in the annual peace walk to honor the work and the legacy of the Rev. Martin Luther King Jr. on his federal holiday.
On Monday, Jan. 20, District residents from across the city met at the headquarters of the United Black Fund in Southeast to walk to the Covenant Baptist United Church of Christ in Southwest to remember the work of King. Andy Shallal, a candidate for mayor of the District, said that he was happy to participate in the peace walk.
King, America's preeminent civil rights activist and agitator against more than a century of Jim Crow and segregation in the southern United States would have been 85 this year. An assassin's bullet cut his life short at age 39 while he stood on the balcony of the Lorraine Hotel in Memphis, Tenn. King's presence in that city was to support sanitation workers who sought higher wages and better working conditions.
"This is a gorgeous day to celebrate Dr. King," said Shallal, a 59-year-old social entrepreneur, businessman and founder of the Busboys and Poets and Eatonville restaurants. "This is the best place to be in the city."
Across the United States, individuals, groups and a range of civic, social and civil society organizations worked on service projects to honor King. The peace walk is one of the many activities that took place during the King Holiday throughout the city and in the Washington metropolitan region. President Barack Obama, his wife Michelle and daughters Sasha and Malia, helped prepare and feed hundreds of needy D.C. residents at the DC Central Kitchen in Northwest. Meanwhile, Mayor Vincent C. Gray (D), who normally participates in the King procession, made a presentation at the MLK statue at the National Mall on Monday.
Obama said he was on hand to help the organization mark its 25th anniversary. Senior White House official and Obama friend Valerie Jarrett joined the Obamas. DC Central Kitchen prepares about 5,000 meals daily to at-risk and low-income residents. Vice President Joe Biden spent the morning at the National Action Network's annual Martin Luther King Jr. breakfast, and later joined members of the Catholic Volunteer Network to serve a hot lunch at So Others Might Eat (SOME). Obama cabinet officials such as Secretary of Education Arne Duncan, Commerce Secretary Penny Pritzker and White House Chief of Staff Denis McDonough, also took part in other holiday-related activities.
A White House statement captured the day's purpose.
"Dr. Martin Luther King Jr. dedicated his life to improving the world in which he lived – and challenged the rest of us to do the same. He not only championed equal rights but also equal access to economic opportunity for all Americans. This year's Martin Luther King, Jr. Day of Service will honor his legacy as hundreds of thousands of Americans pay tribute by serving their communities on Monday, January 20."
"MLK Day exemplifies this spirit as individuals and families around the country come together on this day every year to strengthen their communities through service and volunteering. Through their deeds, they demonstrate that service can accelerate progress on our most pressing priorities."