Annual MLK Peace Walk Honors Icon's Legacy
James Wright | 1/21/2014, 10:49 a.m. | Updated on 1/22/2014, 3 p.m.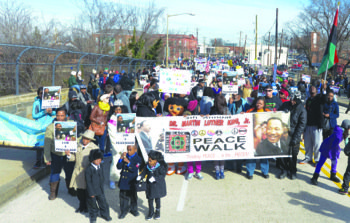 The Dr. Martin Luther King Jr. Parade began in 1979, the brainchild of Calvin and Wilhelmina Rolark, co-founders of the Washington Informer newspaper and local radio personality and activist Petey Greene. The Peace Walk started when a controversy arose in 2006 over an idea by D.C. Council member Marion Barry (D-Ward 8) to hold the event in the spring because of the possibility of inclement weather.
Barry did not participate in this year's activities because of illness.
Denise Rolark Barnes, publisher of the Washington Informer, Yango Sawyer, an activist for returning citizens, Ward 6 Advisory Neighborhood Commissioner Keith Silver, and others, came up with the idea of a peace walk a year later to symbolize the community's stand against violence.
"Violence is everywhere," Sawyer said. "When there is violence in Southeast, there is violence in the [Democratic Republic of the] Congo."
Sawyer said this year's march honors the late South Africa President Nelson Mandela, who died last month.
Mandela, 95, carried on a similar struggle against white domination halfway across the globe in South Africa. From the time he was a young man, Mandela immersed himself in activities that confronted the white minority regime at every turn. After years of fighting the apartheid government using non-violent means, Mandela eventually turned to armed conflict by helping create Umkhonto we Sizwe or Spear of the Nation. Beginning in June 1961, the organization launched a series of retaliatory strikes against government installations and facilities.
Umkhonto we Sizwe was eventually classified as a terrorist organization by the South African government and the United States. Mandela served 27 years in prison after being found guilty of treason but on his release on Feb. 11, 1990, he became South Africa's first black president.
Since Mandela's death, admirers, pundits and other observers have been comparing and contrasting the lives and legacies of the Nobel Peace laureates.
Barry LeNoir, the president and chief executive officer of the United Black Fund (UBF), said that the peace walk has other purposes as well. The UBF is a social service organization that the Rolarks founded in 1969 to provide economic, educational, vocational and professional uplift to people of color.
"We're walking for peace...and a piece of the pie," LeNoir said, referring to economic development in Southeast. "We're walking for Frederick Douglass, we're walking for Thurgood Marshall and we're walking for Mary McLeod Bethune, all of whom fought for us as a people."
D.C. Council members and mayoral candidates Jack Evans (D-Ward 2) and Muriel Bowser (D-Ward 4), former State Department official Reta Jo Lewis joined Shallal by walking several blocks or the entire route shaking hands and greeting observers. D.C. Council At-large candidates Nate Bennett-Fleming (D), John Settles III (D), Robert White (I) and Eugene Puryear (D.C. Statehood Green) marched with their supporters and greeted parade observers.
Many of the candidates had other engagements to attend or had to depart while the peace walk took place. Bowser, 41, stopped by Calvin Coolidge High School in Northwest to encourage residents to clean up the school.
Later, she made a short speech at the Congress Heights Main Streets luncheon that took place at the Imagine Public Charter School in Southeast. Bowser encouraged the crowd at the luncheon to use the H Street model of development, but cautioned against displacement of longtime residents.
Shallal attended an event at the Lincoln Theatre in Northwest before he and his contingent made the trek to Southeast for the peace walk.
KAGRO, a Korean-American dance group and members of the Embassy of El Salvador, also had marchers in the walk.
At Covenant Baptist United Church of Christ, March participants watched several performances from young people who spoke, sang and danced illustrating what King meant to them.
Art Slater, who lives in Northwest, said that he enjoyed the walk.
"You need an expression of peace and activism together," he said. "You need them both."
However, not everyone agreed that the walk is a good thing.
"I think it was much better when there was no holiday," said Marion Moore, 74, who lives in Southeast. "White people weren't interested then and there were horses, clowns and balloons. You don't have that now."
WI staff writer Barrington M. Salmon contributed to this story.