D.C. Region Readies for More Snow, Frigid Temperatures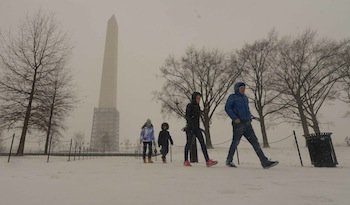 Less than two weeks after a "polar vortex" blasted across the nation, the D.C. region steeled Tuesday for another cold front expected to deliver as much as 10 inches of snow.
The National Weather Service issued a winter storm warning until 11 p.m., and snowfall had already began in much of the metropolitan region by early Tuesday morning. The region should expect accumulations of up to 10 inches or more.
Wind gusts up to 25 mph are possible, and temperatures will continue to slide throughout the day and into the evening to a low of 5 degrees.
Ahead of the storm, many jurisdictions began announcing closures Monday evening.
The D.C. government closed, as well as the city's schools, aquatic centers, recreation facilities and administrative office. Prince George's and Montgomery counties also closed schools and government, excluding essential personnel.
During the morning, the Capital Beltway and most major roadways in Maryland remained clear and traffic was running smoothly, though the evening rush hour is expected to be more adversely affected by the weather. MARC announced there would be no service for the Camden and Brunswick lines. The Penn line will operate with limited service throughout the day.
For more Prince George's County/Maryland news, follow @JoshuaGarnerDC on Twitter.