Narrowing Digital Divide by Training Parents and Students on the Internet
Muriel Hairston-Cooper | 1/21/2014, 4:49 p.m.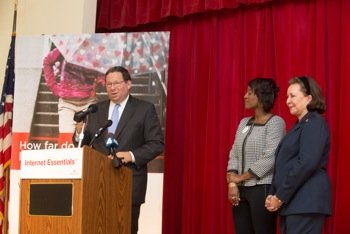 While many across America correspond through social media such as Facebook, Twitter or directly online using Internet-powered platforms, 17-year-old Taequann Davidson is spreading the word about the strength of the Internet the old fashioned way — by word of mouth.
"I have my friends come over to work on school projects," (on my computer) he said. "I tell them to think about what they would do without the Internet — with Google for research, e-mail to send content to teachers and applying for colleges. These are the kinds of resources that are needed."
Comcast has the same approach. In late September, Comcast announced a new partnership with DC Promise Neighborhood Initiative (DCPNI) to help increase digital literacy and connect more families to the Internet in the Kenilworth-Parkside neighborhood. Comcast is sponsoring five Internet Essentials digital literacy training courses offered through DCPNI which will focus on Internet basics, finding and applying for jobs and online safety.
This new initiative will be offered to the families of 300 children who attend Neval Thomas Elementary School, the Parkside Campus of Cesar Chavez Public Charter Schools for Public Policy and Educare of Washington, DC. The families will receive a free computer upon enrollment in the Internet Essentials program.
The program is an added bonus to Comcast's community outreach, which includes providing low-cost broadband service for $9.95 a month plus tax and the option to purchase an internet-ready computer for less than $150.00 for low-income households. Since its launch, 20 parents have participated in the training courses.
"We are taking it street by street, neighborhood by neighborhood and getting the message out the old fashioned way," said David L. Cohen, Comcast executive vice president, about the Internet Essentials program. "Since the initial program began three years ago, 98 percent of the participants said they would recommend the service and tell their neighbors."
Comcast and DCPNI representatives were joined by FCC Commissioner Jessica Rosenworcel and Alma J. Powell, chair of America's Promise Alliance, as well as students and staff from the elementary and charter schools. The event also included interactive activities from Discovery and robotic demonstrations by the Tiger Woods Learning Center.
The new training courses represent a holistic approach to improving the student's educational environment, as well as helping a community which has an unemployment rate that is twice the District's rate of 8.7 percent as of August 2013.
"Eighty percent of Fortune 500 companies require online applications," Rosenworcel said. Top Fortune 500 companies in the Washington area include CVS, Wal-Mart, Bank of America, Costco, Home Depot, Verizon Communications, Target, MetLife, Pepsi and State Farm Insurance.
"This program will not just offer low cost digital access but also skills to take full advantage of more information that will allow interaction with government, their child's school and health care providers," Rosenworcel said. "Broadband is fast becoming an essential part of our commercial and civic life."
Cohen, pointing to a map which outlined the District, said "If you look at this, you will see the colors that are lighter actually show a picture of the digital divide. In this neighborhood there is a 20-30 percent digital penetration as compared to Georgetown or Chevy Chase DC where it is 80-100 percent penetration."