Narrowing Digital Divide by Training Parents and Students on the Internet
Muriel Hairston-Cooper | 1/21/2014, 4:49 p.m.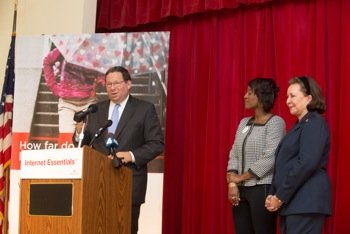 The parental participants are attending a series of classes on a variety of subjects, such as Internet safety for your child, MS Office software, how to use the Internet to research and apply for employment. Also included in the training are a pre and a post testing of the participants. DCPNI will evaluate the data sets to determine the impact that the trainings have made for them and/or their families, with emphasis on moving the dial in terms of parents attaining GED's, receiving financial literacy, and high school graduation rates. This evidence-based, two-generation model will address service gaps and assess needs as part of DCPNI's commitment to developing a cradle to career pipeline in this community.
"We want the parents to be engaged because we are looking at a whole integrated learning approach service that speaks to our 'Five Promises, reaching 'Two Generations' of young people and their parents," said Ayris T. Scales, executive director of DCPNI.
The Internet Essentials Initiative is the first in a series of new programs being offered by DCPNI this fall. Less than a year ago, the organization was selected by the U.S. Department of Education to develop a program to support the children in the Kenilworth-Parkside community to ensure they obtain a quality education.