D.C. Political Roundup: Henderson Criticizes McDuffie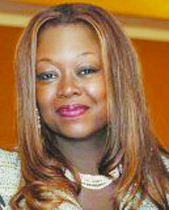 Kathy Henderson, the advisory neighborhood commissioner for single-member district 5D05 and the chairman for 5D, has decided to challenge D.C. Council Chairman Pro Tem Kenyan McDuffie in the Democratic Party primary on April 1.
Henderson believes she can do a better job.
"I have an exceptional record of service in the community and I will stand up and deliver for Ward 5," said Henderson, 51. "McDuffie wants us to vote for him for another term because he is removed from scandal but that is not enough. I have a record of improving sidewalks, making sure that there is adequate lightning on our streets and working well with the Fifth District Police Station."
Henderson has been recognized for her work in fighting open-air drug markets in areas of Northeast such as Langston Terrace, Carver Terrace and Trinidad/Ivy City. She has appeared on "The Montel Williams Show" and has been profiled in Essence and People magazines.
The Fifth District has awarded her its "Civilian of the Year" twice and its coveted "Commander's Award" and she has been honored by such agencies and organizations as the District's U.S. Attorney's Office, the Ward 5 Democrats and CSOSA (Court Services and Offender Supervision Agency). She ran for the Ward 5 D.C. Council seat in 2006 and in the special election in May 2012 in which McDuffie prevailed.
Henderson said that some Ward 5 residents have discouraged her from running in the primary because they see a bright political future for McDuffie.
"I have heard some say that they want him to take Eleanor's [D.C. Del. Eleanor Holmes Norton] place but he has not done the job he has now sufficiently to justify that type of talk," she said.
"He is weak on the issues and does not show up to community meetings. If I am elected to the council, the phone will always be answered in my office."
D.C. Statehood Has Strong National Support
The leaders of Stand Up! for Democracy in DC Coalition recently released a poll showing growing support for the District as the next admitted state in the union.
"The results of our random survey shows that the vast majority of people supporting D.C. statehood and that the more they know about our colonial status, the more likely they are to support it," said Anise Jenkins, the president and executive director of Stand Up! "This survey provides valuable data that we plan to use in support of furthering efforts to make D.C. the 51st state."
The project received the support of the Executive Office of the Mayor and the Office of the Secretary of the District of Columbia. Volunteers working on the project compiled data by conducting face-to-face interviews and on the organization's website.
Seventy-three percent of those surveyed supported D.C. statehood. Fifty-nine percent of those who did not support D.C. statehood said that they did not know that the city did not have voting representation in the U.S. Congress and 79 percent did not know that District residents pay the highest federal taxes in the country.