THE RELIGION CORNER: When God is Silent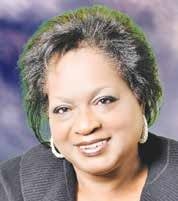 As we approach the Lenten season, March 5, 2014; I'm reminded that Resurrection Sunday is right around the corner, April 20, 2014 this year. When God is Silent comes to mind for this column. As we make plans for a new and better year; we cleanse our minds and our spirits for renewal. Then in the end, we're going through traumatic events in our lives, and often feel that God has forsaken us.

Remember the words spoken by Jesus when He was on the cross! He said "My God, my God, why have you forsaken me?" In the gospel of Mark this statement in Aramaic is spoken by Jesus just before he dies on the cross (Mark 15:34), and in the gospel of Matthew Jesus utters these last words in Hebrew (Matthews 27:46): "Eli, Eli, lema sabachthani?" Generally translated as, "My God, my God, why have you forsaken me?"
As familiar as these words may be for Christians, they are shocking. If God can become silent on His own Son during the time He hung on the cross; when He is silent in our lives, just think of this as a time when God is doing His perfect work.
An excellent example is an oak tree – where does it come from? It doesn't just appear! First the acorn is planted; then it takes time, maybe about a month or more before any sprouts begin to shoot out, deep inside the earth. Then after some quiet time, like a baby in the mother's womb, some new shoots from the oak tree finally shoot out above the ground; a tiny, new, fragile, fresh little plant; so easily broken. Over the years, look at the strength of the oak tree.
Only by allowing what feels like hell on earth, prayer after prayer unanswered; interruption-after-interruption; is when we are prime candidates for His work. We've lost all hope of making something happen with our own strength. In the midst of our time of silence, we gain clarity and a willing spirit to be led to this unknown place He has guided us to. As we learn not to my own understanding, but embrace what we can't know, we allow God to be enough.
He gives us gifts, dreams, visions, and pursuits, and He takes away the bigger perspective we might have once had in order to teach us to be a consistent and faithful person in the daily mundane. He asks us to entrust ourselves to Him. When we do so, we realize it's not answers we needed all along, but to know and rest in His character alone.
Embrace the "I don't knows" and the whims of everyday, the silences, because we are not capable of knowing His doings, especially the times when He seems silent. Our human minds are finite and our perspective is narrow compared to the eternal. We are experts in asking the when, the how, and the whys. But just as the acorn does not pester its Maker, we too are asked to wait, to trust, to be OK with the wandering, the unknown, and the humility that produces each of us into what we were are destined to become.
Trust God, especially when He is silent. He allowed His Son to go through the crucifixion, to feel He too was forsaken; a clear indication we must go through periods in our own lives when God is silent.

Trust and believe in God, and allow Him to do His perfect work. Just think of "silence as golden!" It is during these times when we are being molded and shaped into the spiritual being He sent you to this earth to become.
Lyndia Grant is an author, inspirational and motivational speaker, radio talk show host and columnist; visit her new website at www.lyndiagrant.com and, call 202-518-3192. Tune in Fridays at 6 p.m., to the radio talk show, 1340 AM, WYCB, a Radio One Station.