Southeast Rappers Return from North Korea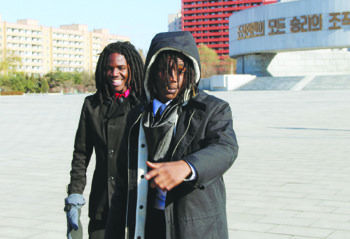 Two emerging hip-hop artists from Southeast have returned to the District after traveling to North Korea to film a music video.
Peso, whose real name is Dontray Ennis, and Pacman, whose real name is Anthony Bobb, said they enjoyed quite the experience during a Thanksgiving holiday journey in which they filmed "Escape to North Korea," a song that contains music by another Southeast resident, D.B. Bantino, the son of Washington Informer Publisher Denise Rolark Barnes.
The five-day trip to the Far East nation received proper clearance from the U.S. State Department.
"No [rapper] has ever been there," said Peso, 20. "No one's tried to do the things we're trying to do out there and no one ever has shot a video in North Korea. We're the first."
American hip-hop fans and others around the globe will really enjoy the video because it's original and viewers should easily be able to notice the excitement shared by the duo," said Pacman, 19.
"It's a great video. We had a smooth time and it wasn't as difficult as some people were saying it would be before we went over there," he said.
The two began planning their journey last summer.
They and their producer, Ramsey Aburdene, an investment banker who also lives in the District, posted a request on the fundraising website, Kickstarter.
Ultimately, they raised $10,000, with half of it coming from James Passin, a hedge fund manager whom Business Week previously dubbed as, "the American who bought Mongolia."
"We all thought this would be a great idea," said Aburdene, 24, who originally planned to visit a friend in Beijing, but added to the itinerary after speaking with a friend whom he said has been deeply involved in North Korean affairs.
"My friend Mike Basset is a war veteran and a wounded warrior who spent four years stationed at the [demilitarized zone in North Korea]," Aburdene said. "He's visited the country several times and that's one reason why we decided to go."
Aburdene said Pacman and Peso were very enthusiastic about going to North Korea and their travels took them first to Beijing, than to Hong Kong, and Mongolia before ultimately landing in dictator's Kim Jong-Un's country.
Once there, the rappers, Aburdene, and their crew began filming.
Their video shows the pair at a number of landmarks in the country's capital, Pyongyang, including its Grand Monument.
It features footage of the rappers riding public trains, traveling on a bus and standing in front of banners that include photos of both Kim Jong-Un and his late father and former dictator, Kim Jong Il.
The trip proved to be the first time either had traveled outside of the United States.
"It felt good. We didn't know it would be this big of a deal but the response has been crazy," Peso said. "There were a lot of naysayers and people who said we couldn't do it. We will soon drop our Mongolia video and then our Beijing video after that."
Peso, who lists his biggest influences as Lil Boosie, a Louisiana rapper who's known for such records as "Ghetto Stories," and "Camp Life & Youngest of tha Camp," said the pair soon will release a "Great Wall," video and a mix tape.
"Just more music and more videos, more concerts and, more trips," he said.
Pacman, whose influences include rappers Wiz Khalifa, Nas and Lupe Fiasco, said he began rapping in middle school.
"I was doing different things with different people on the local music scene but none of it ever came together like it was supposed to until now," said Pacman, who initially met Peso through an acquaintance.
Since announcing the trip to North Korea, the duo have received national and international media attention and have gained more fans, they said.
"There have been a lot of interviews and a lot of people have been reaching out to us," Peso said. "Overall, they want to see what we've got coming next so it's just more motivation to keep doing what we do."