MLK and Mandela: Two Men, Two Countries, One Goal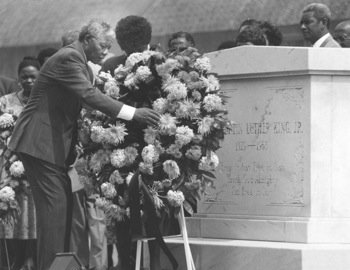 Although civil and human rights icons Nelson Mandela and the Rev. Martin Luther King Jr. never met, there are a number of parallels between these iconic men.
Both men fought against apartheid in South Africa and the United States, and each led movements that led to the overthrow of the white minority government in Africa's southern tip and the dissolution of Jim Crow in the South.
King and Mandela were both larger-than-life, influencing significant segments of their respective countries and by their sheer will, formed South Africa and the United States along a very different path racially and socially. Mandela and King were each awarded the Nobel Peace Prize 30 years apart; they fought against state-sponsored terrorism launched against Black people; each man patterned their struggle against racist systems on the Gandhian model, although Mandela later changed tactics; Each paid a heavy price for their convictions and activism with King being assassinated in 1968 at age 39, and Mandela serving 27 years behind bars. Further, there are few people in the world unaware of either Mandela or King.
In a speech in London, England in December 1964, King spoke of the similarities both movements shared. Black South Africans, King said, are up against "a massively armed and ruthless state which uses torture and sadistic forms of interrogation to crush human beings …"
"Clearly, there is much in Mississippi and Alabama to remind South Africans of their own country, yet even in Mississippi, we can organize to register Negro voters, we can speak to the press, we can, in short, organize the people in non-violent action," King said. "But in South Africa, even the mildest forms of non-violent resistance meet with years of imprisonment, and leaders over many years have been restricted and silenced and imprisoned."
Following his release from Pollsmoor Prison on Feb 11, 1990, Mandela spoke often of the effect King had on him and on a visit to the United States, Mandela quoted King in an address to Congress, saying he and his fellow South Africans were "free at last."
Laura Ivers, 46, said that as a white woman, she thanks Mandela and King often, not just for freeing Blacks, but also for saving whites from themselves.
"The structures of Apartheid and Jim Crow were extremely abusive. The devastation and destruction of an aggressive environment affects everyone," said Ivers, a member coordinator at Sam's Club who lives in Syracuse, New York. "The structure sets us up. White people were devastated, as was the family structure. It's like water being tainted and the most vulnerable being hurt."
White people endure peer pressure, an unwillingness to acknowledge or relinquish the perks of skin privilege, and an inescapable system of denial.
"I admire King and Mandela because they saw people on a human level," said Ivers. "Racists and those in control win by divide and conquer tactics. Martin Luther King took a tremendous amount of heat for including whites in the movement, but a lot of people I know were touched by it, including me."