Volunteers Spruce Up Area Schools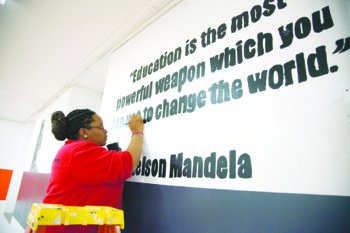 More than 1,000 millennials recently answered the call to serve, taking part in large-scale renovation projects at three District schools during the Dr. Rev. Martin Luther King Jr. holiday.
Corps members from City Year, an Americorps program that provides intervention services for at-risk adolescents, and local college students painted murals, moved furniture, and spruced up classrooms at Coolidge Senior High and Paul Public Charter Schools and Whittier Education Campus in Northwest on Monday. The day of service gave the young volunteers an opportunity to personify what Jeffrey Franco, executive director and vice president of City Year, called the late civil rights leader's dedication to community. 
"We have done projects like this for years and it's a part of giving the children positive educational experiences," said Franco, 43. "This is an anchor that brings the community together. Many of the volunteers can't tutor in the schools like our corps members but they can answer the call by painting, moving furniture, and making educational materials," said Franco who lives in Northwest.
The day of service kicked off with a ceremony at Coolidge where volunteers heard remarks from U.S. Secretary of Education Arne Duncan, D.C. Mayor Vincent C. Gray, and D.C. Council members Muriel Bowser (D-Ward 4) and David Catania (I-At-Large) before reporting to their assigned areas. Corps members provided instructions to volunteers throughout much of the day and distributed supplies where needed.
City Year senior corps member Stephanie Lorenzo and 100 volunteers spent much of the morning priming the walls of Coolidge's cafeteria, which bore a dull, mustard yellow color, with white paint. They later spelled out the individual letters of the school's name on pillars located around the dining hall. Lorenzo said that the new look could raise student morale.
"The physical space in which children learn and interact is part of the educational experience," said Lorenzo, 23. "I wanted my team members to fulfill their service to the best of their abilities. We all hope that when the students come back and see the new environment, they will feel rejuvenated. That will make them more excited to carry on Dr. King's legacy," said Lorenzo who lives in Silver Spring, Md.
Charisse Furlongue spent much of the afternoon in a hallway at Whittier applying strokes of green, red, blue, and yellow paint to a blank wall until it turned into a mural that depicted math equations and symbols growing from the branches of a large tree. The City Year project manager said that the mural would be of great help to students as the school sets out to integrate Science Technology, Engineering, and Mathematics (STEM) into its curriculum.
"I really enjoy projects like this because we start with a blank canvas and over time we see how we transform a school," said Furlongue, "I know we have a lot of staff members excited to see what we did at Whittier. I want to see the children's faces when they see the murals. They may not entirely understand what STEM means but to see it in actuality is really great for them," said Furlongue who lives in Northeast.  
More than 2,000 corps members engaged in King Holiday service projects in more than 20 cities across the country including Los Angeles, Miami, New Orleans, and Philadelphia. Activities also included restoration of public parks and landscaping.
"Dr. King often spoke of a beloved community where everyone serves," said UnoBlessed Coons, 24, recruitment manager at City Year. "The work that we do builds that community and brings people from all walks of life," sad Coons who lives in Northwest.
Follow Sam P.K. Collins on Twitter @sampkcollins.