Young Mothers Connect with Industry Titans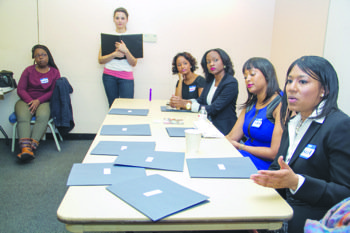 A group that included an attorney, a public relations representative, two nonprofit executives and a businesswoman recently imparted pearls of wisdom about navigating their career fields to nearly 20 young mothers during a career clinic at Metropolitan Community Church of Washington in Northwest.
Generation Hope, a Northwest-based nonprofit that helps teen parents living in the D.C. metropolitan area complete their undergraduate studies, organized the Jan. 18 event in conjunction with The Rising Professional, a Silver Spring, Md.-based organization committed to career enhancement of young professionals. The career clinic provided the young mothers, also known as Generation Hope Scholars, an opportunity to create concrete plans to reach their professional goals.
"This career clinic is meant to open these women's eyes to various professional opportunities," said Jenna Boyer, a panelist and founding director of The Rising Professional. "For young mothers, [it's especially important to] gain income when you leave college and enter the professional world," said Boyer who lives in Silver Spring, Md.
Much of the afternoon's discussion focused on balancing the demands of a personal life with that of a career. Some panelists shared what they described as unique paths to realizing their career goals. Others reflected on the impact of their internship experience, especially when the time came to secure full-time employment. Scholars later received copies of Good Self, Bad Self, famed crisis management expert Judy Smith's book about persevering through professional, personal, and financial difficulties.
Maaden Eshete, co-founder and communications and outreach lead of Divas, MPH, a College Park-based nonprofit organization that helps women maintain physical, spiritual, and mental wellness, encouraged the young mothers to pursue the careers of their choice, even if it doesn't fall in line with what they study. Eshete recalled conducting research in laboratories for a couple years before losing interest. She enrolled in the Morgan State University School of Community Health and Policy and gained tools that would help her directly affect change at the community level.
"[This kind of information] is valuable because we don't live in a vacuum," said Eshete, 30. "We live in a community so we have to share stories [that] motivate people to take the next step. If I can pay it forward, then that's important. I hope that these women stay the course. Despite their obstacles, they can achieve the success," said Eshete who lives in Baltimore.
Eshete's advice resonated with Tonika Hilliard, who joined Generation Hope nearly six months ago. She said wants to help teenage boys of color reintegrate into society upon their return from the juvenile justice system. Hilliard said that listening to the panelists put to ease her concerns about pursuing the career of her choice.
"There are [young men] in my neighborhood who don't know about services that are available and there are also teens coming out of jail who want to get back on track," said Hilliard, 24, a student at Montgomery College in Takoma Park, Md. and a mother of a seven-year old son. "I am motivated to get a bachelor's degree in four years and go for a master's degree after. [As a youth services provider], I can [assist] teens who do not know about [programs] that are available. The discussion made me realize that no matter the type of degree, you can pursue whatever career you want," said Hilliard who lives in Northwest.
Event planner Yodit Gebreyes said that she enjoys building her own business, even though it requires that she works more than 15 hours per day. She implored the young women to carry out their goals, which included social work, biomedical engineering, and law, no matter how difficult it may seem.
"I love coming to these circles. It's a great networking opportunity," said Gebreyes, 27, owner of Favored by Yodit, an event planning company based in Annandale, Va. "My hope is that [the young women] have the courage to follow their dreams. I heard them mention a lot of great paths. It's wonderful to see that it's not entertainment and media. These are great careers that will help the community," said Gebreyes who lives in Rosslyn, Va.
Follow Sam P.K. Collins on Twitter @sampkcollins.