Officials Mull Plans for Options Public Charter School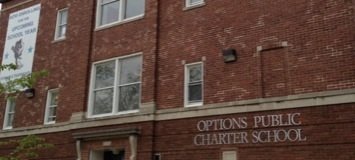 Nearly 400 students currently enrolled Options Public Charter School in Northeast could be reassigned to D.C. public schools if the school's charter is dissolved amid charges of financial mismanagement and inside dealing, according to testimony given this week at a D.C. Council education committee hearing.
Council member and committee chair David Catania presided over the Wednesday, Jan. 22 hearing at the John A. Wilson Building, the second held on Options since October when a court order appointed receivership of the school to education consultant and former charter school administrator Joshua Kern.
Kern testified that serving as the school's receiver has not been without its challenges.
"When my team and I stepped into the school in early October, several people responsible for functions essential to the school's operations had been removed," he said. "Key administrative positions had been left essentially unstaffed, and those vacancies posed significant operational problems."
However, Kern said revocation of the special-needs school's charter isn't necessary. A slew of adjustments made by him and his team — including a nearly 15 percent reduction in staff, most which were teachers — has resulted in a streamlined, reconfigured internal leadership team, he said, though he acknowledged that the school's problems haven't been solved.
A disclosure of alleged financial malfeasance in which millions of dollars were diverted from the school in a contracting scheme surfaced last fall, leading to an investigation assisted by the Office of the Attorney General.
Additionally, recent court documents reportedly indicate that the board's chief financial officer received $150,000 to help the former managers embezzle millions of taxpayer dollars meant for students.
The investigation led to a recommendation last month by the seven-member Public Charter School Board (PCSB) to revoke Options' charter, a measure required by law in cases of financial mismanagement.
Despite pleas from parents and education advocates not to close the school, the board began steps in December to forge ahead in shuttering the facility, which mostly enrolls students with emotional or learning disabilities and those who've been expelled from at least two D.C. public schools.
The board is expected to render its decision on the charter in February, though the school will remain open the rest of the school year. If Options closes, PCSB members say they have assured parents that both a plan and resources would be available for displaced students.
The 106 charter schools in the District serve 35,000 students, or 43 percent of all public schoolchildren. Options, which opened in 1996, is one of D.C.'s first five charter schools.
Scott Pearson, PCSB executive director, said he reached out to D.C. public schools chancellor Kaya Henderson in September about Options' situation and continue talks with her over the next two months, but did not give details about the discussions.
Henderson was not immediately available for comment, but her spokeswoman Melissa Salmanowitz said there is already a significant number of special-education students in public middle and high schools.
"Many neighborhood schools have approximately 30 percent of their students with special education needs" Salmanowitz said. "If Options Public Charter School closes, many of the students will have to enter DCPS. This would be a huge burden to DCPS and its schools and create instability for both the Options students and the current DCPS students."
Catania blasted Pearson during Wednesday's hearing for not being sufficiently prepared in the event Option closes.
"You acted precipitously to close this school … without having any plan for what should happen to these children," Catania said, adding that he expects to be presented with both a budget and details for the school's 2014-15 operation by March.