WPAS Commemorates 75th Anniversary of Marian Anderson's Lincoln Memorial Performance
1/24/2014, 12:18 p.m.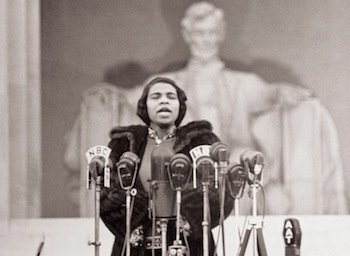 Eight years before Jackie Robinson first ran the bases in Brooklyn, and 24 years before Dr. King pronounced "I Have a Dream," one remarkable woman stood on the steps of the Lincoln Memorial and sang for an audience of 75,000. That woman was Marian Anderson. On April 12, 2014, one of the nation's leading independent arts producers and recent recipient of the National Medal of Arts, the Washington Performing Arts Society (WPAS), will celebrate the 75th anniversary of this groundbreaking performance, a landmark moment of the Civil Rights movement, with an all-star concert hosted by the celebrated American soprano and long-time friend of WPAS Jessye Norman.
"A voice, once in a century. The bearing of a majestic high-priestess with splendor of grace and a humility of spirit," says Norman of Anderson, her friend and mentor. "Easter 1939, a woman rose far above the limitations of her time and poignantly sang: 'My country 'tis of thee sweet land of liberty, to thee we sing.' On the occasion of seventy- five years since that glorious Sunday afternoon, let us come together to remember and pay due homage to the singer, the strength of character and the stunning event itself. We are honored to offer her our gratitude."
Of Thee We Sing will take place at the Daughters of the American Revolution (DAR) Constitution Hall, the very same venue that denied Ms. Anderson permission to use its stage in 1939, eventually leading to her recital outdoors and transforming a musical event into a transformative political one.
"I could not run away from the situation," Ms. Anderson said of the concert. "I had become, whether I liked it or not, a symbol representing my people. I had to appear."
She would eventually perform many times at Constitution Hall, including her final D.C. appearance 50 years ago in 1964, which was presented by WPAS founder Patrick Hayes. DAR is donating the use of Constitution Hall for Of Thee We Sing.
Of Thee We Sing: A Once-in-a-Lifetime Event
Of Thee We Sing weaves music from the classical and African American spiritual repertoire that defined Anderson's career together with a newly commissioned choral work, narration, archival footage and images as well as contemporary video. It is the majestic culmination of an ongoing cultural and educational outreach program undertaken by WPAS this year (launched in February for Black History Month), through which nearly 10,000 D.C. school children will be introduced to Ms. Anderson's artistry and activism.
This influence is already represented in two of the young guest artists performing at the concert: the young gospel singer Annisse Murillo is a current member of WPAS's choir program Children Of The Gospel, and bass Soloman Howard is a former member of the choir, currently in his third year of Washington National Opera's Domingo-Cafritz Young Artist Program and a rising star in the opera world.
A world premiere of a WPAS-commissioned choral work by D.C. music luminary Dr. Ysaye Barnwell, longtime member of Sweet Honey In the Rock, is one of the highlights of the program. For Barnwell, Marian Anderson was an unrivaled inspiration: "I was 9 years old when I saw Marian Anderson perform at the Metropolitan Opera. I think I still have the program and the New York Times review from the next day. My parents, especially my father who was a classical violinist and pedagogue born in the same year as Anderson, insisted that I know who she was. … I have always been inspired by her phenomenal vocal range, the fact that she sang both European and African American classical repertoire, and her dignified heroism." Barnwell's piece will be performed by a 300-member choir, including 120 singers from WPAS's Men, Woman & Children of the Gospel and members from 20 other local choruses directed by Stanley Thurston. The large, massed chorus reflects WPAS's goal to celebrate the diverse voices that comprise the creative fabric of DC, arguably one of the choral 'epicenters' of the U.S.