WPAS Commemorates 75th Anniversary of Marian Anderson's Lincoln Memorial Performance
1/24/2014, 12:18 p.m.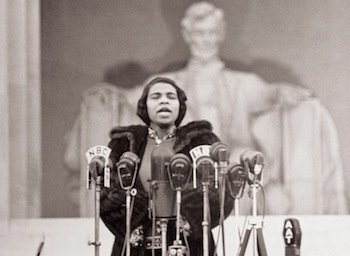 WPAS President & CEO Jenny Bilfield says, "Marian Anderson had a lasting impact upon so many of us in ways that transcended age, race, cultural background. As we began working on this project, we were moved by the many, profoundly personal connections people shared with us. That Miss Anderson was a close friend of and inspiration to WPAS founder Patrick Hayes gave additional urgency to producing this event. With Of Thee We Sing, we honor these qualities by gathering together generations of performers and audience members whose lives she touched with her exceptional humanity, and by introducing the youngest generation to her enduring spirit."
"Celebrating Marian Anderson in our nation's capital highlights the enormous political impact her career had for black artists in America," says Paxton Baker, Executive Vice President and General Manager, Centric (a BET Network), and WPAS Board Member. "Her exceptional artistry and unwavering determination to effect change continues to give us the courage to face seemingly insurmountable personal and political obstacles with grace and resolve. In her own right, Marian Anderson's life, courage and conduct was as significant as Rosa Parks's. And as Harold Ickes said when he introduced her on that Easter Sunday 'Genius draws no color lines.'"
Of Thee We Sing is already being heralded as a defining cultural event for the D.C. area. It has earned the support of numerous funders and program partners, as well as an Honorary Host Committee comprising of United States senators and representatives from Pennsylvania and more than 15 members of the Congressional Black Caucus.