The Capital Kidds Take Music Industry by Storm with Catchy, Positive Tunes
Local Group Provides Alternative Sound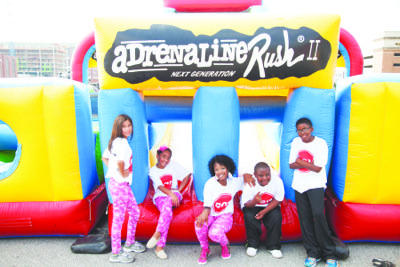 Parents, educators, and public officials have long rallied against overt messages of violence, drug use, and sexual promiscuity in today's popular music, saying it has negatively impacted an entire generation. Few, however, have provided a popular alternative.
The Capital Kidds, a local children's music group, has set out to challenge the status quo with its brand of "edutainment" – music that educates as well as entertains. Their catchy tunes about healthy eating, exercising, and treating others with respect have intrigued media moguls, captivated hundreds of area youngsters, and relieved concerned parents.
"This is a good use for music that you don't see today," said James McGee, 13, the group's rapper, also known as Lil' J. "Our songs don't have any [profanity]. Parents can get in the car with their children and listen to it. You can't do that with some artists. We're helping everyone by setting a good example for others," said James who lives in Southeast.
The Capital Kidds, comprised of three girls and two boys whose ages range from nine to 13, have written and recorded tunes that touch on various aspects of the adolescent experience. They often belt their positive, upbeat lyrics over the bounce beat, found in contemporary go-go. Their 2012 hit "No Bully" discourages schoolyard violence and has bolstered efforts to address the hot-button issue. Their newest song "Nutrition," slated for a release later this year, has garnered support from national organic food retailer Sweet Green and FRESHFARM Markets, a Northwest-based provider of locally-grown produce.
The quintet has shared the stage with high-profile acts such as J. Cole and Mindless Behavior and attracted hundreds of children to their shows around the D.C. metropolitan region. Past tours include the D.C. Department of Parks and Recreation Fitness and Nutrition Tour in 2010 as well as the D.C. Public Schools No Bully and the Capital Kidds Fitness and Nutrition Tours in 2011. They also showcased their unique skills on Fox 5 Morning News in 2011 and before First lady Michelle Obama on the National Mall at an event sponsored by the Let's Move Campaign last year.
The Capital Kidds recently showcased the first episode of a web series set to launch this year during a Jan.11 gathering in a recording studio at Deanwood Recreation Center in Northeast. Charles "Shorty" Garris, co-manager of the group, likened it to a hybrid of Mickey Mouse Club, Soul Train, and 106 & Park.
"I wanted to challenge the [children] as well as myself to cover topics that teachers, administrators, and parents [cover] in the same frequency as their favorite artist or singer," said Garris, founder of the Innovative School of Performing Arts, a D.C.- and Waldorf, Md.-based nonprofit that offers mobile music education services. "[Our team of producers] clearly understood what we could do by using titles like 'Nutrition' and 'No Bully' to educate and entertain at the same time. The results have been incredible," said Garris, lead vocalist for local go-go band Rare Essence, who lives in Southeast.
Garris and co-manager Rico Anderson formed Capital Kidds in 2010 while leading a music education class at Walker-Jones Music Academy in Northwest. The pair led more than 70 students in creative writing exercises that focused on the importance of proper decision making. Garris and Anderson eventually handpicked the members of the group with talents they thought could flourish in the music industry. Recording sessions at R.A. Studios in Northeast often included impromptu lessons about production and instrumentation.
Anyia Ward, a member of The Capital Kidds, recounted past experiences of bullying and said that advocating for peace has allowed her to speak for those who often feel helpless against their aggressors. She wants to continue what she describes as a rewarding start to a music career and follow in the footsteps of her stepfather, a local producer.
"When I first learned about this opportunity, I was nervous," said Anyia, 11, who lives in Southeast. "Our song is not only a message for bullies, but for those who often face situations with bullies. This is a way for me to show my talent and tell people that they're not alone. Our group is able to spread a positive message for everyone who hears our music. We know that we will go very far in helping people understand our message of being [children] and staying in school."