D.C. Political Roundup: King Considers Supporting Bowser, But Picks Gray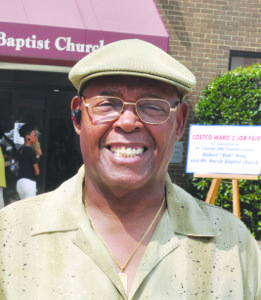 Robert King, the influential advisory neighborhood commissioner of single-member district 5C03 and the longest-serving elected official in the District, once considered supporting D.C. Council member Muriel Bowser (D-Ward 4) as the next mayor of the District. King, 68, attended Bowser's announcement in Northeast on March 23, 2013 and while he did not make a commitment to her, he considered her bid seriously.
However, on Jan. 18 at Turner Elementary School in Southeast, at the Ward 8 Democrats mayoral forum, King urged Ward 8 residents to vote to re-elect D.C. Mayor Vincent Gray (D). When asked why the change, he said that Gray is the best of all of the candidates running.
"It was very simple to me," King said. "Vincent Gray has a record to run on. Also, the other candidates who are on the city council, with the exception of [D.C. Council member] Tommy Wells have nothing to lose by running because they will still have their council seats."
If Wells loses the Tuesday, April 1 Democratic mayoral primary, he will be out of politics in 2015. Meanwhile, Bowser, D.C. Council members Vincent Orange (D-At Large) and Jack Evans (D-Ward 2) will not have run for re-election until 2016.
King is considered to be a force in Ward 5 politics. He played a significant role in the development of The Villages at Dakota Crossing in Northeast that includes upscale townhomes and the District's first Costco.
He's also viewed as a leader in the District's senior population because of his advocacy and persistent outreach on their behalf. He said that he has worked on issues regarding seniors since the mayoral administration of Walter Washington.
King said that he knows Bowser and her parents, who live in Ward 5, well and did make overtures to her campaign. Things did not work out with Bowser's campaign, he said, and he jumped on Gray's bandwagon when the mayor announced that he is running for re-election late last year.
"Wells, Bowser, Orange and Evans are legislators," he said. "They do not have the experience that Gray has when it comes to managing the city's finances, economic development and public safety. It is the mayor that does those things and it generally takes eight votes to do anything on the council."
King said that Gray will win the Democratic primary in April and the general election in November because he will rally the seniors to vote for the mayor.
"There are over 100,000 seniors in the District and they have the highest voting percentages of any age group in the city and in the nation," he said. "Everyone knows that in this city you cannot win an election without the support of the seniors. They are the most stable voting bloc and I will make sure that they support Vincent Gray."
Bonds Wants to Continue to Serve
D.C. Council member Anita Bonds (D-At Large) faces a long list of challengers for the Democratic at-large D.C. Council seat on Tuesday, April 1 but she is not discouraged. In the April 2013 special election, Bonds defeated a number of credible challengers to secure the at-large seat on the D.C. Council and she said she is ready to win again this April.