EDITORIAL: And Justice for All …
1/29/2014, 3 p.m.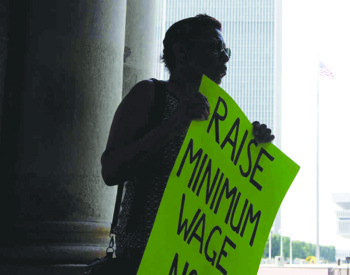 For more than eight months, food service, janitorial and other staff employed by the federal government at the Smithsonian museums, Union Station, the Ronald Reagan Building and other federal installations, have been protesting and holding a series of one-day strikes.
Why?
To coax President Barack Obama to force their employers to pay them a living wage. At federally owned facilities across this city, these employees routinely make less than $10 an hour and in some cases, much less. The workers are hired by companies such as Taco Bell and Dunkin Donuts and other fast food outlets to work on federal property. And while one would assume that these employees are earning a living wage, the majority is not. At the same time, according to a story on the Moyers & Company website, the bosses of the companies with federal contracts to provide food and other services at federal buildings make more than $24 billion in salaries each year.
Last June, more than 100 employees assembled in front of the Smithsonian Air and Space Museum one morning to protest working conditions and low pay. Protest organizers as well as employees say some of them make $10,000 a year without benefits, while those who work in food courts made less. Providing all workers in the District of Columbia with a living wage would translate into a minimum wage of $8.25 per hour.
Just last Wednesday, the Pentagon's janitorial and food service and janitorial staff went on strike as well.
Protestors are seeking at least $13.68 an hour for workers with no children, or at least $26.37 an hour if the employee has one child.
A group of about 200 federal contract employees trekked to the gates of the White House last year with signs, bullhorns and a fierce desire to seek the president's help to correct their plight and the grave injustice. Men and women talked about long hours, poor wages and having to choose between taking the bus or Metro train to work or feeding their children. Others spoke of not having money to buy lunch and of working overtime but not being compensated. After some protests, some company managers fired protestors or sought to intimidate them into not walking a picket line.
But the workers are undaunted.
Throughout all the demonstrations, protests and appeals to the president's sense of fairness, Obama – who once promised to walk the picket lines with the workers – has been strangely silent and above the fray.
Time and again, Obama has described inequality as the "defining issue of our times." And on Dec. 4 last year at THEARC in Southeast, he had this to say during a well-received speech about economic mobility: "But we know that people's frustrations run deeper than these most recent political battles. Their frustration is rooted in their own daily battles – to make ends meet, to pay for college, buy a home, save for retirement. It's rooted in the nagging sense that no matter how hard they work, the deck is stacked against them. And it's rooted in the fear that their kids won't be better off than they were..."
Also, during Tuesday's State of the Union address, the president spoke further about what he plans to do to help people move into the middle class.
If Obama is true to his word, then he needs look no further than at these long-suffering employees.
And since he has already indicated a willingness, as expressed by White House Press Secretary Jay Carney, to bypass Congress where necessary, correcting this situation is simple.
President Obama has in his power the ability to reverse this shameful situation with the stroke of his pen. Fairness and justice demand it.