Obama Calls for 'Year of Action' in State of the Union Address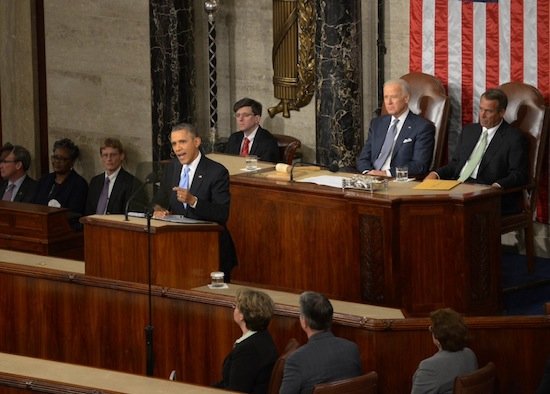 President Barack Obama called for 2014 to be a year of action, as he repeatedly assured Americans improved access to jobs, education and a flourishing economy during his fifth State of the Union address on Wednesday.
Obama, now in the second year of his last term in office, stressed that his administration's focus lies in moving the country forward and not creating new issues, and that although he and the Congress will need each other to solve many of the country's problems, he intends to take hold of issues with or without its support.

"Last month, thanks to the work of Democrats and Republicans, this Congress finally produced a budget that undoes some of last year's severe cuts to priorities like education," Obama said during a more than hour-long speech. "Nobody got everything they wanted, and we can still do more to invest in this country's future while bringing down our deficit in a balanced way. But the budget compromise should leave us freer to focus on creating new jobs, not creating new crises."
He added that while Americans want to move forward with a focus on their lives, hopes, and aspirations, he believes that the country can remain strong and unified — regardless of race or region or party, young or old, rich or poor — if citizens are willing to work hard and take responsibility.
"Let's face it: that belief has suffered some serious blows," Obama said. "Over more than three decades, even before the Great Recession hit, massive shifts in technology and global competition had eliminated a lot of good, middle-class jobs, and weakened the economic foundations that families depend on."
However, in noting the country's spirit of perseverance, Obama pointed to the nation's lowest unemployment rate in over five years, rebounding housing market, and a manufacturing sector that's adding jobs for the first time since the 1990s.

He said that for the first time in nearly two decades, more oil has been produced at home, than bought from the rest of the world, deficits have been cut by more than half, and, "for the first time in over a decade, business leaders around the world have declared that China is no longer the world's number one place to invest; America is."
Moving along in his optimistic can-do speech, the president sidestepped issues surrounding his low approval ratings — particularly in the wake of the Obamacare website debacle and the recent government shutdown — to also assert the need for a recalibrated tax code and strengthening of the country's aging infrastructure.
He also talked about avoiding wars and preventing Iran from obtaining a nuclear weapon, pulling troops out of Afghanistan, as well as initiatives to support military families.
While Obama received several rounds of applause in the packed House chamber, one of the most poignant moments came when Sgt. First Class Cory Remsburg, a disabled war veteran, received a two-minute standing ovation.
Obama explained that on his tenth deployment to Afghanistan, Remsburg was nearly killed by a massive roadside bomb, and that when his comrades found him in a canal, he was face-down, underwater with shrapnel in his brain.

After months of medical care, Remsburg, now blind in one eye, still undergoes grueling rehabilitation.
Obama added however, that it's men and women like Remsburg who serve as a reminder that America has never come easy.
"Sometimes we stumble; we make mistakes; we get frustrated or discouraged," Obama said. "But for more than two hundred years, we have put those things aside and placed our collective shoulder to the wheel of progress — to create and build and expand the possibilities of individual achievement; to free other nations from tyranny and fear; to promote justice, and fairness, and equality under the law."