P.G. County Eyes Diversity Initiative
Task Force Formed to Diversify Government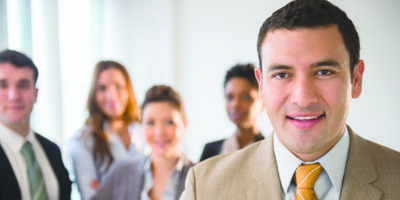 Officials in Prince George's County government are hoping to diversify their ranks with the formation of a special task force aimed at outreach to immigrant communities.
The New Americans Task Force held its second meeting on Jan. 11 in Lanham to discuss and recommend best practices for recruiting residents from underrepresented ethnic groups including those who have immigrated to the United States and are pursuing work in the county government.
"There are different challenges for [new Americans]," said Barry Hudson, a county spokesman. The task force hopes to address the unique challenges of the immigrant community with targeted initiatives, he said.
The county is in the midst of a demographic shift as immigrant communities continue to grow throughout the region. County Executive Rushern L. Baker III (D) decided to form the nine-person task force at the urging of Sen. Victor Ramirez (D-Dist. 47) of Cheverly and Prince George's Councilman Will Campos (D-Dist. 2) of Hyattsville, both of whom immigrated to the U.S. from El Salvador.
Prince George's County is the second most populated jurisdiction in the state with more than 863,000 residents, according to the U.S. Census Bureau. Latino residents make up the largest percentage of the immigrant community, roughly 15.7 percent of the county's population, according to 2012 data. The Latino population has more than doubled in the county since 2000.
"The Latino community is probably the fastest growing community," Hudson said.
Still, there are other immigrant communities growing in the county including Africans, Caribbeans, and Asians. During the meeting, task force members pushed representatives from the county government to supply more comprehensive and inclusive data on which countries immigrants migrated from and where immigrant communities are in the county.
"We're just trying to get an idea of what the population looks like in Prince George's County," said Ramirez, chair of the task force. "We don't want to overcomplicate it."
But tracking data for immigrant communities has its challenges, said Philip Taylor, a senior planner for the Maryland-National Capital Park and Planning Commission, who presented population data to the task force.
Taylor said there is difficulty tracking immigrants and how they classify themselves because of incomplete responses to questionnaires from the U.S. Census Bureau.

"In some areas, we have a very high non-response rate," he said.
Taylor said that tracking certain demographics is also difficult because some are folded into larger groups. For example, Latinos can be included in population counts for Caucasians or blacks; a person from the West Indies or from sub-Saharan Africa is likely to be counted as an African-American without their country of origin being reported.
"Some Hispanics look white, some look African-American," said Joe Perez, a member of the task force.
The task force has an April deadline to make recommendations to Baker on how to go about diversifying the county government.
Officials working with the county's Office of Human Resources Management said the county has been making progress in efforts to make sure its workforce reflects the community.
"Our goal is to identify and look for qualified [candidates] that reflects the diversity in our area," said Stephanye Maxwell, director of the Office of Human Resources Management, a department that is responsible for 6,263 employees that work in the county.
African-Americans make up the largest percentage of the county's workforce with 56 percent followed by Caucasians. Latinos and Asians make up 5 percent and 3 percent of the county's workforce respectively, according to the Office of Human Resources Management.
Maxwell said her department has hired bilingual translators in addition to employees of Latino descent as inroads to ensure that the county government continues to diversify.
"Change is great … but change is slow," she said. "The trend is slow but they're moving. We're improving our representations of Hispanic groups … and veterans."
For more Prince George's County/Maryland news, follow @JoshuaGarnerDC on Twitter.