Robeson Rediscovered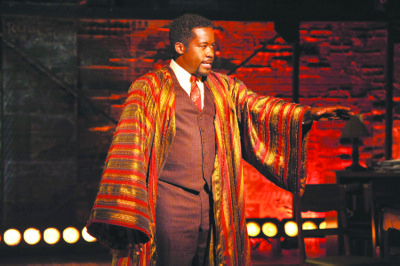 As Virginia Congressman Jim Moran walked out of the Jan. 16 performance of "The Tallest Tree in the Forest," a range of expressions crossed his face.
"It was a breathtakingly beautiful performance," said Moran, 68, as he shook his head and smiled. "It is the best performance I've seen, man or woman, in 40 years. I was stunned by the artistry of Daniel Beaty. I'm just stunned ... speechless."
"The story is compelling, and the artistry peerless. (Congresswoman) Marcia Fudge told me that this was the best night she's had since she came to D.C. We're going to encourage all of our colleagues to come and see it."
The play, which runs at the Arena Stage on the Waterfront in Southwest until Sunday, Feb. 16, recounts the uncommon life of Paul Robeson. Beaty, an award-winning actor, singer, writer and motivational speaker, tells Robeson's story in his one-person play through 40 characters and 14 songs. The play's name comes from a description given to Robeson by educator Mary McLeod Bethune.
Robeson died in 1976 at age 77. A renaissance man, he was a Phi Beta Kappa scholar, valedictorian and an All-American football player at Rutgers University. He graduated from Columbia University Law School, but decided to cut his law career short because of the racism he faced. With his wife Essie's encouragement, he embarked on a career that encompassed acting, music and activism. Robeson thrived during the Harlem Renaissance and at the height of his fame, moved from singing, the stage and silver screen to focus his energy on activism. In the late 1940s, he ran afoul of J. Edgar Hoover, President Harry Truman and Congressman Joe McCarthy because of his strident support of the Soviet Union and his unwillingness to bow to the racism and segregation African Americans had faced since the first Africans were brought to America's shores.
Hoover and the federal government destroyed Robeson's name and reputation, demonized him and seized his passport in 1950, not allowing him to travel or make a living for eight years. He never recovered professionally, suffered physically, including a debilitating stroke, and was gradually erased from the public consciousness.
The stage was sparsely furnished with a table and several chairs at the Mead Center for American Theater, while two bookshelves stacked with books and papers were further back. A single naked lamp and several old-style microphones formed a semi-circle in front of the stage.
Beaty, nattily attired in brown dress pants, and waistcoat, a white dress shirt and a brown tie, owned the stage, striding, walking, gliding almost, as he assumed the voices and mannerisms of Robeson, his wife, Truman, McCarthy, and others whose paths crossed Robeson's. Musicians playing an oboe, cello and piano accompanied Beaty, whose rich, vibrant voice soared into every corner of the theater.
Throughout the play, Beaty spoke directly to the audience and soon had them following his every word. His empathic rendering of Robeson – who is revealed as a man with all the foibles, faults and fissures of ordinary people – helped Beaty guide the audience through the long and difficult years of Robeson's struggle for manhood and justice.