Robeson Rediscovered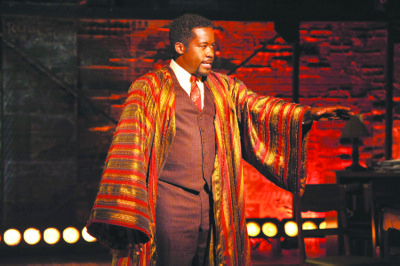 "I was just blown away by the performance. It was a physically demanding role and I didn't see him drink any water," joked Edmund Fleet, executive director of the THEARC in Southeast. "It was outstanding. And such a monumental figure was brought to life."
Beaty said he first learned about Robeson while he was a student of classical voice at Yale.
"I became curious about the man behind the voice," said Beaty, a 38-year-old Dayton, Ohio native. "Robeson is an extremely complex figure, his accomplishments were so vast, and he had so many big moments. At the height of his fame, issues of race and the struggle were more important than his own success."
While in London performing in All God's Chillun Got Wings and Emperor Jones, Robeson gained international fame. He encountered Welsh coal miners who'd walked to London to demand decent wages and better work conditions and after marching with the protestors, one of the leaders invited Robeson to sing. He embraced the miners' cause and for the next 40 years, became the vanguard for racial equality, justice and economic parity for all races and classes.
Robeson's desire to change America's economic system made him a dangerous man in Hoover's eyes, and sowed the seeds for his demise.
"I had a few thoughts and I was curious about why there was such a campaign to erase Robeson. I consciously explored that," said Beaty. "What was it about the character of Robeson that made him choose activism vs. art? I think I figured it out. After a couple years, I think I do understand. The truth is he was the most famous black figure in the world at that time. He was a celebrated artist who also sat at the table of the leaders of many nations. His height allowed him to see things other people couldn't. The uniqueness of that lens and view gave him an advantage."
"He felt a real call and urgency."
Beaty said he wrote the play then worked on it over the course of two years, shaping and honing it in a developmental workshop and two prior productions.
"It was a very rich and intense process with lots of rehearsals," he explained. "We developed it in New York City and with the initial production in Kansas City and LaJolle, California. One of my goals with this work is to help put Robeson back in the social discourse and illustrate what roles artists can play in society. His (belief) was that all people should have the right to have freedom. I was inspired to learn more and more about Robeson. There's a line in the play that says 'the artist cannot hold himself away from the world.'"