Shallal Extols Benefits of Not Being a Politician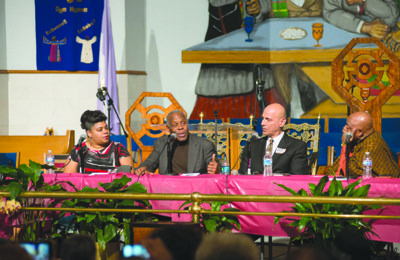 Race. Gentrification. Economic inequities. Failing schools. Cronyism. An absence of leadership.
These are some of the issues D.C. mayoral candidate Anas "Andy" Shallal says stand in the way of the nation's capital being a truly great city. And thus far, the entrepreneur said, the city's political leaders have either been unwilling or unable to handle these problems in ways that bring the most benefit to the greatest number of D.C. residents.
It is his love for this city, Shallal said, that has propelled him to enter the mayor's race.
"It's my first time running for elective office," said Shallal, an Iraqi-American businessman, restaurateur and activist during a recent interview. "I think I really have a great deal of affection for this city. And I'm seeing it become more divided."
"We have a city with such enormous disparities even though it's one of the wealthiest. Sixty-two percent of kids who live east of the (Anacostia) River are dropping out. It's 45 percent citywide. Homelessness is at an all-time high and 50 percent of the city's residents are illiterate. If you care about the city and have a pulse, you have to be concerned."
Shallal, a 58-year-old father of four and founder of four Busboys and Poets restaurants and another named Eatonville, said unlike the other candidates in this year's mayor's race, he is an outsider who has not chosen to make a career out of politics.
"I could have run for the School Board and ANC if I was a politician. But something happens along the way. If I was a politician, I'd likely be sheared off along the way, have all my soul sucked out of me and be so jaded," he said. "That's why I'm going right to the top."
"We in this city have failed to harness people power. If (a person) can get elected without people power, (the person elected) will ignore them. It's possible to get people excited about this campaign. Just because people don't vote doesn't mean they're not interested or don't care."
On the afternoon that Mayor Vincent C. Gray kicked off his bid for a second term, Shallal hosted a fundraiser at his Adams Morgan home with actor Danny Glover, and later that night, the pair attended a Ward 8 Townhall at Union Baptist Church in Southeast. Glover promised to return to campaign for Shallal.
Shallal is attempting to become mayor in a city that since Home Rule in 1975 has always had a black person leading the city. As an Iraqi, he falls squarely in the middle, neither black nor white, which may confound those whose political calculus is only able to quantify candidates who are either one race or the other.
"You have two choices. On one side, there is a group looking to make a career out of politics. On the other side, you have me, totally committed to social justice. I don't need the money. I already have a job," he said.
Shallal has an uphill battle if a recent Washington Post poll is any indication. In a public opinion survey of Democratic voters, he garnered nine percent. Gray tallied 24 percent, which isn't great but that stems from public misgivings about the 2010 campaign scandal and issues of trustworthiness, residents said.