Shallal Extols Benefits of Not Being a Politician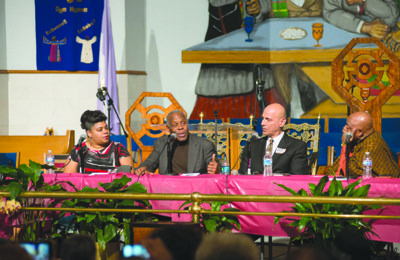 Yet, as Gray Campaign Chairman Chuck Thies sees it, Gray, 71, will carry the day. Thies, 47, declined to comment on specific candidates but offered his assessment of the race.
"Every candidate except the mayor is a longshot," he asserted. "It depends on who you talk to but people want the candidates to focus on issues and explain their vision for the next four years, but unfortunately, most of the candidates want to smear the mayor. They have collectively spent $1.5 million and they're polling in the single digits."
"If I had been running a campaign and spending hundreds of thousands of dollars. I would have to look in the mirror and say I need to do something different. If you talk about the issues, you'll see that Vincent Gray is doing a great job. All they do is sling mud and hope that will result in chaos and that someone will emerge from that chaos. But the voters are smarter than that."
Noted child psychiatrist and author Dr. Frances Cress Welsing said she was struck by Shallal's honesty about race and confronting it. She said she was so surprised and decided on the spot that she would vote for him.
"He spoke about his interest in dealing with racism," said Welsing, 78, who has lived in the District for 43 years. "None of the other candidates are willing to deal with race. My focus as a psychiatrist has been on the critical importance of racism in dealing with our problems as black people. Early in his tenure, Attorney General Eric Holder asked if we're a nation of cowards. Our nation's afraid to deal with this issue."
Gray, Welsing said, has overseen an accelerated increase in gentrification that has proved to have had deeply destructive consequences for the city's black, middle class and low-income residents.
"Gentrification is racism. They are moving blacks out of the city and moving white people in," Welsing said. "It's no different from South Africa. Andy Shallal has had the courage to state his interest in this problem and put it on the table."
Shallal followed his father into the restaurant business when he worked and then later managed his father's carry-out in Annadale, Va. He opened several restaurants, including Skewers, Café Luna and Mimi's American Bistro. He opened Busboys and Poets in 2005, naming it in honor of Langston Hughes, who worked as a busboy at the Wardman Park Hotel as he emerged as a poet.
"I don't speak Council-ese. I bring substance. I'm very knowledgeable about the city and how it runs," said Shallal. "I sat down with (former Mayor) Anthony Williams for a couple of hours. I also sat with (Council member) Marion Barry, different council members and I've had contact with many, many activists, ANCs and the community."
"I've talked to people inside and out of the system and of course, ordinary people. We're a city rich with resources and poor with vision. With the tax debacle (of homeowners losing their homes because they owed property taxes), if the focus was about people, it would never happen. Someone would have pulled the alarm. Habits and culture starts at the top."