Shallal Extols Benefits of Not Being a Politician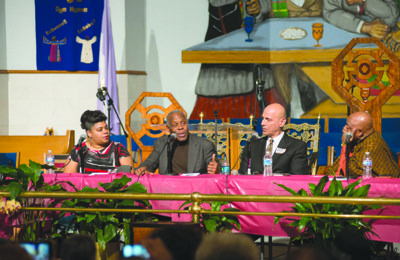 Shallal criticized the type of gentrification that has spread across the city.
"I don't want every corner to look like Georgetown," he said. "Someone thought up this idea that expensive condos and retail stores are the way to go. That is boring. Excitement is small, unique stores, and living space that we make and stay affordable. We need to reinstate the idea of public housing, housing that is sustainable, clean, safe and attractive."
Shallal said city leaders must properly address the two fundamental problems of poverty and gentrification.
"I can imagine the anxiety people feel in Ward 8," he said. "If they're not included, we have to incentivize, make them feel involved."
Bringing the Department of Homeland Security may, on its face, seem like a good thing but the dividends to Ward 8 residents will likely be marginal, Shallal said.
"Fourteen thousand jobs have been projected but only 340 of those don't require a college education, according to the Small Business Development Center. That's pure gentrification. Prices will be going up for homes and people will be pushed out toward Ward 9. I want to make sure we have small businesses, incubator spaces, and help create a synergy that can enhance growth and development."