D.C. Department of General Services Hosts Small-Business Outreach Event
More Than $100,000 in Contracts Awarded
Dedra T. Owens, Special to The Informer | 1/31/2014, midnight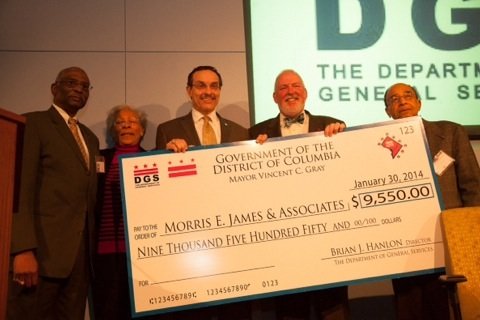 More than 300 local proprietors joined the D.C. Department of General Services (DGS) on Jan. 30 at Gallaudet University's Kellogg Conference Center for "Our City, Our Businesses: Moving Forward Together," an outreach event for local businesses.
More than $100,000 in contracts were awarded at the event, which was one of a DGS-hosted series for local businesses including Certified Business Enterprises (CBEs) to promote contract opportunities and provide professional development for business owners.
"These events provide a platform for local businesses to learn more about DGS, hear about upcoming contracting opportunities, and network with DGS staff," said department director Brian J. Hanlon.
Mayor Vincent Gray, who attended the event, reiterated his support and ongoing commitment to local small businesses and CBEs.
"With your help, we've made good progress on achieving some of the goals of my five-year economic development strategy, designed to create jobs for District residents and economic development opportunities for District-based companies," he said.
Gray was on hand to assist with the presentation of the first contract, which was awarded to James Morris and Associates for appraisal services.
The event then split into to three breakout sessions.
Hanlon moderated the "Are You Ready for Prime Time?" panel, which included Casey Stringer of Broughton Construction, Courtland Cox of DGS and Ramesh Butani of HRGM Corp. The panelists shared valuable insight on how they grew their business and how contractors can transition from subcontractors to general contractors.
Olivia Warren, the department's coordinator of workforce incentive programs, facilitated the "How Work Force Incentives Can Work for You?" segment. Panelists included Kim Ford, the University of the District of Columbia's dean of workforce development; Charles Thornton, director of the Office of Returning Citizens; Drew Hubbard, associate director of first source, Department of Employment Services; and Michelle Wright, Program Director of Great Streets Program, Office of the Deputy Mayors for Planning and Economic Development. The diverse panel discussed the benefits of hiring city residents for their businesses and community.
The "Can We Bond?" segment explored bonding issues impacting emerging construction businesses. The panel of experts included JoAnne Brooks, vice president and counsel for the Surety and Fidelity Association of America; Edin Zukanovic, surety bond producer for Construction Bonds Inc.; and Shara Gibson of the Department of Local and Small Business Development.
The event concluded with Hanlon and JW Lanum, the department's associate director of contracts and procurement, awarding the remaining contracts, which ranged from landscaping to electrical and janitorial services.
For more information on upcoming Department of General Services outreach events, visit www.dgs.dc.gov.