D.C. Council Seeks to 'Ban the Box'
Wells, McDuffie Lead Effort to Remove Employment Barrier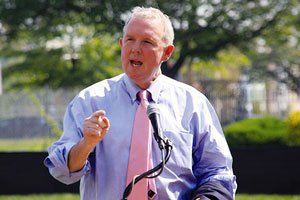 Courtney Stewart grew up in the drug infested streets of Northeast and he struggled at home with two alcoholic parents and became a product of the juvenile justice system at the tender age of 9.
Placed in foster care at 13, Stewart spent several years in and out of prison and, when released a final time more than 20 years ago, he discovered just how difficult his criminal past made it for him to land a job.
"All that I asked was a chance to compete in the job market beyond the screening of that box," Stewart said. The box referred to by Stewart, who now serves as the chairman of the Reentry Network for Returning Citizens in Northeast, might be familiar to most, if not all, returning citizens.
It's the space on an employment application form which requires everyone to answer whether or not they've been convicted of a crime.
"If that box is not banned from the employment application, someone like me will continue to be prejudged and not given a fair chance to be considered for employment," he said.
Led by Ward 5 Council member Kenyan McDuffie and Ward 6 Council member Tommy Wells, the D.C. Council plans to give final approval on Monday, July 14 to legislation that removes the box from an employment application.
McDuffie and Wells both hope that the legislation, known formally as the "Fair Criminal Records Sentencing Act," or "Ban the Box," will help to significantly lower recidivism among those reentering society after an arrest and conviction and offer them a better opportunity of securing a job.
"There may be a move to water it down, to change it, but it will pass," said Wells, 57, who'd also like to see a similar bill that includes prohibiting landlords from conducting criminal background checks.
"Primarily, because we have so many returning citizens who will say that the two main obstacles that they have is getting jobs and finding housing," Wells said. "A lot of people are not even considered for a job if they have a criminal history. I wanted to at least give them a chance and, if they're qualified, they deserve that chance."
Statistics compiled by the U.S Bureau of Justice from federal, state and local law enforcement and courts show that there's an estimated 70 million American adults with arrests or conviction records.
Officials at the National Employment Law Project in New York, a nonprofit that's pushed, "Ban the Box," legislation, said that the total has grown because of tougher sentencing laws. Also, nearly 8,000 District residents are released from prison every year and African-American men comprise the majority of that total, local officials said.
"If you look at the data, one of the primary factors that contribute to recidivism is the failure to gain meaningful employment," said McDuffie, 35. "For years we've said that if you commit a crime and serve the time, that's it, your debt to society is paid. But, that's not really the case."
McDuffie said the war on drugs has decimated communities around the nation, including those in the District. He said while the legislation isn't a proverbial silver bullet, it should at least help returning citizens get their foot in the door.