D.C. Gospel Radio Host Still No. 1
WYCB's Winston Chaney Marks 30 Years on 'The Morning Show'
D. Kevin McNeir | 7/2/2014, 3 p.m.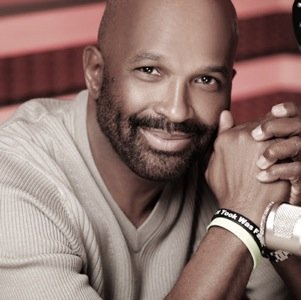 Few people can say that they've been on the same job for 30 years.
But when the time has been spent in realizing a dream, the accomplishment becomes even more satisfying.
"I wasn't going to make a big deal out of it [the anniversary] and was totally surprised when I got to the station and saw it decorated with balloons and signs wishing me congratulations," said Winston Chaney, often referred to as the "voice of gospel radio" in the Washington metropolitan area. "I should have known something was up when I learned I had a co-host [Cheryl Jackson, WPRS-FM, Praise 104.1] and then discovered that she had arranged a who's who of gospel greats to call into the show to wish me well," said Chaney, 59.
Chaney celebrated his 30th anniversary on June 10 as the host of "The Morning Show" – the most popular broadcast on WYCB-AM 1340, a member of the Radio One Network, the largest minority-owned on air system in the nation. He said he never thought that when he began training at a small radio station in Richmond, Virginia, that his part-time gig would lead to a major opportunity in Washington, D.C.
"My listeners say that I'm funny and entertaining – I guess that comes from being raised in a small, southern town which is just a stone's throw away from the North Carolina border," said the Danville, Virginia native. "Family has always been important to me, so having my daughter and my two granddaughters at my anniversary celebration was really special. Even my two older sisters and my brother came to D.C. and surprised me."

Chaney said he's learned to adapt to new trends in the industry, including streaming live on the web, showcasing a variety of continuous music and providing less commentary.
"As the gospel industry has changed, I've adjusted too – from playing the music of traditional artists like James Cleveland and Dorothy Norwood to mixing in the contemporary sound that was ushered in by folks like Kirk Franklin, Commissioned and Fred Hammond."
Chaney traces his interest in broadcasting back to 1974 when he began training at WKIE, a local radio station in Richmond. With several years of experience under his belt, he moved to Washington, D.C. in 1980 where he secured a part-time position with WYCB. He was placed under the tutelage of one of D.C.'s most prominent media personalities – Ralph Waldo "Petey" Greene, Jr. with whom he worked side by side until Greene's death in 1983.
"Petey really showed me the ropes and cared about his community," Chaney said. "He always tackled the tough topics on his show and was a true professional. We interviewed some of the greatest: Patrick Ewing when he was just a freshman at Georgetown; Bob Johnson before BET became a household name; Jesse Jackson and Al Sharpton, of course; and even Ruby Dee, Ozzie Davis and Cicely Tyson."
During the funeral service for Greene, Chaney served as a pallbearer, along with Sugar Ray Leonard, James "J.B." Brown [host, "NFL Today"] and Glenn Harris [D.C. native and sports anchor].