DCTV Celebrates 25 Years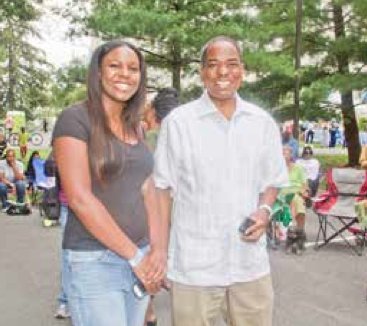 Since its debut at the New York World's Fair in 1939, the television has molded public opinion and kept Americans abreast of current events. The merger of commercial media networks in recent years, however, has raised eyebrows in terms of programming and how it reflects the views of local communities.
That's why Nantz Rickard, president and CEO of the Public Access Corporation of DC (DCTV), says that noncommercial media serves a significant role in diversifying public discourse today.
"Aside from public access programming, the economic model that supports media does not really have a way to make local programming work well," said Rickard, 55.
"It's unparalleled in media to have channels where you can express yourself. DCTV has tools available to the community that allows members to highlight forms of public affairs, culture, art, entertainment, and faith that's important to them. People can also learn to use our state-of-the-art equipment. Young people have explored their interest in media and many people have started their careers here," Rickard said.
During the latter part of June, more than 700 DCTV members, aspiring television producers, and District residents converged on the grounds of the Brooks Mansion, DCTV's headquarters in Northeast, to celebrate its efforts to give community members a platform to express their opinions.
The event, touted as DCTV's Community Day Festival, counted among a host of gatherings that have taken place since October 2013 in observance of DCTV's 25th anniversary.
"There's no beating DCTV," said Omar Ashaka, a DCTV member since 2011 and host of Africa's Vision Network, a program that explores issues pertinent to people of color and features a variety of musical genres.
Since Ashaka launched Africa's Vision Network in 2011, guests have included D.C. Council member Marion Barry (D-Ward 8) and the late blues-rock guitarist Bobby Parker.
"You can get training and invite your friends. D.C. schools should start sending students to DCTV and see what it offers. This is a chance for them to learn how to use the equipment and create their own shows," said Ashaka, 63, a Fort Washington, Maryland resident.
Throughout much of the day on June 21, guests toured the Brooks Mansion, inquired about membership, enjoyed an assortment of ice cream, chatted with one another and grooved to the sounds of Mike McCoy & Voices United, Timmy Hall, and the Chuck Brown Band along with other acts. DCTV broadcast the nine-hour festival and April Watts of Majic 102.3 FM served as mistress of ceremonies.
For many residents, like Alim Wright, DCTV has always been a part of their lives. Wright, whose grandmother worked at DCTV as a hiring manager in the early 1990s, said he completed a production course in May and plans to launch a television show that features Jameisha "JayCole" Cole, a local comedian who has gained a following on the social network Vine.
"We want to keep people informed about what's going on in D.C.," said Wright, 20, a DCTV member since April. "Jameisha can entertain viewers and serve as a news reporter. This DCTV show can be a stepping stone in both of our careers. I want this show to take off nationally and I will use all of the time that I have to make that happen," said Wright who lives in Northeast.