The Disappearance of the Black Coach: African-Americans Shut Out of College Basketball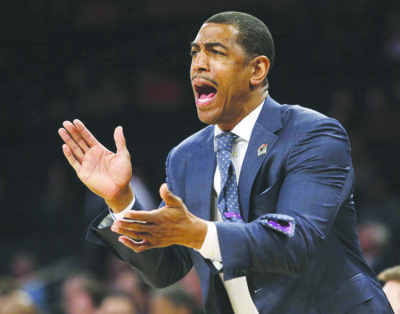 Just a handful of years after the tumultuous, racially charged era of the 1960s, Georgetown coach John Thompson peered over his shoulder during a game at McDonough Gym in Northwest. What the coach saw he'd never forget. Neither would many others. "Thompson the [N-word] flop must go," the racist banner read.
"Today, this generation doesn't even know who John Thompson is," said Brian Ellerbe, a Capitol Heights, Maryland, native and former NCAA Division I men's basketball coach who worked at several schools including George Washington University in Northwest.
Like many, Ellerbe, 50, laments the glaring absence of African-American coaches in Division I basketball. Ellerbe stopped short of accusing anyone of racism and admits that a black coach today probably wouldn't have to endure the bigotry faced by the legendary Thompson in the 1970s.
However, when asked whether an old-boy network might be responsible for the dearth of African-American coaches, Ellerbe said the matter runs much deeper.
"A lot of the hiring practices are far more sophisticated and convoluted," he said. "Today, the athletic directors and the presidents hire search firms to find coaches and [black coaches] are not clients of those search firms."
Ellerbe said athletic directors and presidents have moved toward search firms as a means to protect themselves if a coach fails. It's a system that effectively locks out African Americans, he said. "We're not even getting an interview, a phone call returned or even an email returned," Ellerbe said.
ESPN reported in May that, of the 25 jobs that have opened this year, 13 have been the result of black coaches being fired or resigning, including Tony Barbee at Auburn; Jason Capel at Appalachian State; Louis Orr at Bowling Green; Clarence Finley at Central Arkansas; Ron Mitchell at Coppin State; Greg Jackson at Delaware State; Mike Jarvis at Florida Atlantic; Cliff Warren at Jacksonville; Frankie Allen at Maryland-Eastern Shore; Stan Heath at South Florida; Jason James at Tennessee-Martin; Travis Williams at Tennessee State; and James Johnson at Virginia Tech.
Pat Forde, one of Yahoo! Sports' top basketball writers, said presuming that Historically Black Colleges and Universities such as Coppin State, Delaware State, Maryland-Eastern Shore and Tennessee State fill their openings with minorities, college basketball could well be looking at a net loss in black head coaches next year.
"And then there figures to be several more black coaches entering the season on the hot seat. Among them: Lorenzo Romar at Washington; Craig Robinson at Oregon State; Oliver Purnell at DePaul; Anthony Grant at Alabama; Frank Haith at Missouri; Mike Anderson at Arkansas; Trent Johnson at Texas Christian University; David Carter at Nevada; and Paul Hewitt at George Mason," he said.
Forde also noted that if search firms are simply an extension of college sports' old-boy network among overwhelmingly white administrators, it stands to reason that most of the recommendations will be to hire white coaches.
An NCAA spokeswoman declined to comment.
Still, the percentage of African-American head coaches stands at its lowest level in 20 years. The University of Connecticut's Kevin Ollie, who coached his team to the national championship earlier this year, also expressed concern over the lack of black men on the bench.