The Disappearance of the Black Coach: African-Americans Shut Out of College Basketball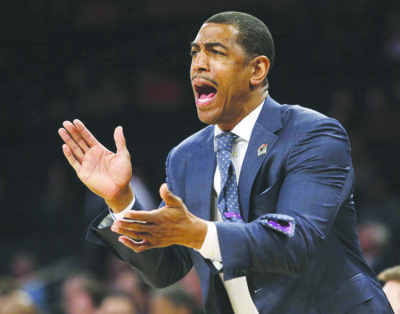 "It's definitely a concern," said Ollie, 41. "It's definitely something we need to take a long look at, and hopefully we can get more African Americans in these jobs, in these positions, that they can run a program."
Ollie said challenges facing black coaches are far more complex than the issues confronted by such pioneers as Thompson, Temple's John Chaney, Villanova's George Raveling and Cincinnati's Nolan Richardson.
Raveling, Thompson, Chaney and Richardson led the Black Coaches Association (B.C.A.). The group, so powerful in the 1980s and '90s, remains, but it's a shell of what it used to be.
"In the old days, when they saw the old B.C.A., they saw a bunch a black folks holding the hammer," Raveling told the New York Times in April after the NCAA Tournament ended. He said that hammer proved to be extraordinary talent, which included the fact that Patrick Ewing single-handedly turned Georgetown into a destination.
Led by Ewing, the Hoyas won the national championship in 1984, and they played for the title in '82 and in '85. Richardson won the national championship with star forward Corliss Williamson in 1994, and went back to the Final Four a year later.
"For whatever reason, it's not in vogue for the great black athlete to play for a black coach," said Paul Hewitt, the coach at George Mason.
With approximately 330 head coaching jobs in Division I basketball, the percentage of African Americans counts fewer than 19 percent. Meanwhile, more than 57 percent of Division I athletes are black and Ellerbe said there should be more coaches of color, individuals who might be able to better relate to young African-American athletes.
"One of the biggest problems is the parents of the young athletes," said Ellerbe, a Rutgers University graduate who said he's now seeking to become an athletic director. "Parents and guardians keep sending their kids to the other guys, not to us. The only time they send their kids to us, the only time they want a black coach involved is when their kid is in trouble and, I'm here to tell you that, the D.C. area is one of the biggest culprits."
Ellerbe said it's important that coaches, administrators, alumni and others continue to shine a spotlight on the lack of African Americans in Division I play.
He said his friend, Stanford head coach and D.C. native Johnny Dawkins, didn't get a raise or contract extension after leading his team to this year's Sweet 16, but every other coach who made it that far received new deals or more money.
"I'm done and out of it and I'm happy," Ellerbe said. "But, for the guys who are still in it, something needs to be said. They have to have a voice."