EDITORIAL: Congratulations Lt. Gov. Brown
7/2/2014, 3 p.m.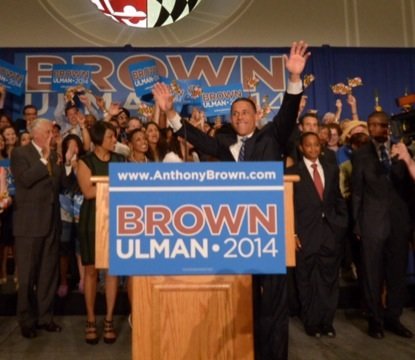 Maryland's Lt. Gov. Anthony Brown handily defeated a slate of Democratic opponents last week and won the nomination to succeed his boss, Gov. Martin O'Malley.
Brown defeated Attorney General Doug Gansler and State Delegate Heather Mizeur. Although he faces Republican businessman Larry Hogan in November, with a 2-1 advantage of registered Democratic voters and a distinctive Democratic tilt among the electorate, Brown is widely expected to become Maryland's first black governor and only the third elected African-American governor in history.
Brown, a former state delegate and Iraq War veteran, never trailed in the polls leading up to the race and received endorsements from President Bill Clinton, Sen. Ben Cardin, O'Malley and Sen. Barbara Mikulski.
He ended up with 53 percent of the statewide vote, won Prince George's County with 76.8 percent of the vote and earned a 47 percent – 29 percent margin in Montgomery County. He never tried to distance himself from O'Malley, who couldn't run for a third term because of term limits.
Outside of the historic nature of Brown's win, if it comes to fruition, he will have his hands full of issues that will need his immediate attention. He has acknowledged during pre-election interviews that the state needs to do a better job of being business-friendly and attracting businesses to Maryland saying his administration would work to eliminate the red tape and help the state earn better business-climate ratings.
Other issues demanding attention are jumpstarting the moribund economy, creating jobs, blunting the damage done to the economy and related effects of sequester cuts, and finding other viable solutions to the state's economic problems other than tax increases.
Of equal importance in our mind, is the need for politicians like Brown to look at ways to excite jaded and frustrated voters who came out in lackluster numbers to vote in this off-year election.