Festival Reacquaints Residents with Kennedy Street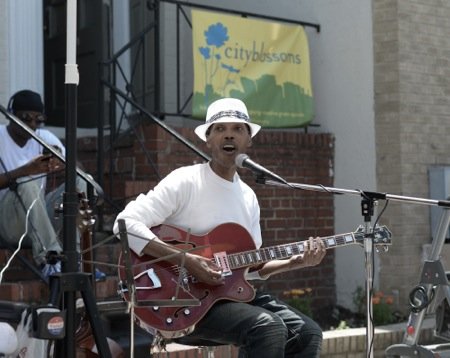 The sounds of children's laughter, the sizzle of half smokes on the grill, and the strumming of guitars made for a fun-filled day in a long neglected neighborhood last weekend during a gathering that attracted hundreds of community residents and passersby alike.
More than 100 people strolled along the Kennedy Street corridor in Northwest where they talked with business owners, sampled a variety of foods, purchased ethnic jewelry, and danced in the streets to the sounds of live jazz, R&B, and hip-hop throughout much of the day. The event touted as the Kennedy Street Sidewalk Festival, allowed residents, both old and new, to reacquaint themselves with the neighborhood and share their concerns about impending gentrification.
"In other neighborhoods, change often happened without input from the people that live there," said Myles Smith, 32, co-founder of the Kennedy Street Development Association (KSDA), a volunteer-run nonprofit comprised of residents and business owners located along Kennedy Street. KSDA, founded in January, hosted the Saturday, June 28 celebration.
"In the last few months, we surveyed residents and reached out to business owners. We want to build up Kennedy Street instead of replacing what's already here," said Smith who lives in Northwest.
The festival stretched along the Kennedy Street corridor, starting on 3rd Street and ending on Georgia Avenue. Volunteers donning bright yellow and blue T-shirts with "I Love Kennedy Street" emblazoned across the front passed out fliers and maps to passersby.
Business owners stood outside of their storefronts, wooing visitors and doling out samples of dishes that included curry chicken, rice and peas, and iced coffee to wash it down. Artists and jewelers also showcased their creations in the parking lot of Hortons Car Wash, located on Kennedy between 5th and 7th Streets.
"The neighborhood needs this unity," said Tony Joseph, a District resident who has lived near the Kennedy Street corridor for five years. He hopped off of his bicycle to watch a band perform in front of the Sewell Music Conservatory.
"Whites, blacks, and Latinos are having fun. That's what we're missing. We need nice events like this so that people can see a positive side of Kennedy Street. It adds value to our neighborhood and helps make people's lives better. This is the spark that keeps the progress going. We need to have festivals like this at least every other week."
Parents pushing baby strollers filed into Blandi's Child Learning Center to sign up for its daycare program. Kiera Fernandez, a teacher at the center since 2012, sat behind a table outside and chatted with festival goers. Although she has no problem with the changes Kennedy Street has undergone in recent years, Fernandez said that longtime residents should have some say in what new businesses plan to bring to the corridor.
"Kennedy Street wouldn't be Kennedy Street without the people who have lived here for a long time," said Fernandez, 25. "There are opportunities for the old and new to come together to affect some positive change. The people attending the festival are usually working during the week so it's good to meet them and enjoy the diversity that's in this area," said Fernandez who lives in Northeast.