Gray Cites Progress Fighting HIV, Other STDs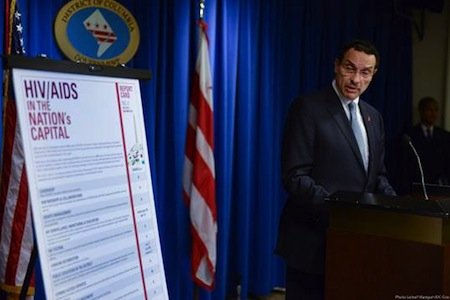 D.C. is no longer one of America's breeding grounds for HIV, sexually transmitted diseases and other ailments, according to a report released Wednesday by the Gray administration.
The District Department of Health's annual update on the state of HIV, hepatitis, sexually transmitted diseases and tuberculosis in the city through the end of 2012 shows the city's continued progress in reducing new cases and improving health outcomes for those infected with HIV, which Mayor Vincent Gray trumpeted.
"My administration's commitment to addressing the District's HIV epidemic has turned the tide on HIV in our city, and I'm proud of the progress we continue to make," Gray said. "While we are still experiencing an HIV epidemic, our innovative programs and partnerships have allowed us to make significant progress in reducing new HIV infections and improving treatment for those with HIV."
Findings of the report include: 16,072 District residents (2.5 percent of the population) are living with HIV, which exceeds the World Health Organization definition of one percent as a severe epidemic; blacks, Latinos and whites with HIV exceed one percent of their respective populations, with blacks affected at a rate at 3.9 percent; and the Department of Health received no reports of confirmed cases of a baby born with HIV in 2012.
Other findings include: 7,258 cases of chlamydia, 2605 new cases of gonorrhea and 173 new cases of primary and secondary syphilis in 2012; new cases of chronic hepatitis B and C from 2008 and 2012 are 2,402 and 9,819, respectively; and the rate of tuberculosis cases decreased 35 percent from 2008 to 2012.