LETTERS TO THE EDITOR: Baker, Staying the Course
7/2/2014, 3 p.m.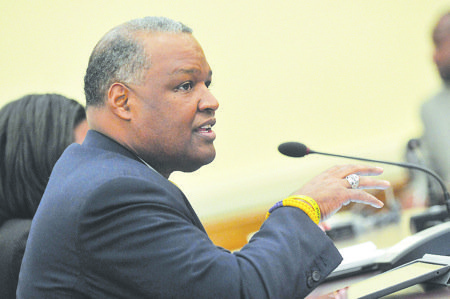 The more I hear and read about Prince George's County Executive Rushern Baker III and the agreements he and his staff are developing for the residents of the county, the more I am reminded of what Marion Barry did for the residents of the District of Columbia when he was mayor, just taking it a bit further.
Stacy Brown's article "MGM, Prince George's County Reach Landmark Deal," June 26, 2014, highlights a number of monumental achievements and goals for the new MGM casino that will be located at National Harbor in Prince George's County. This agreement establishes Minority Business Enterprise contracting goals, county residents' construction related employment goals, an internship program, educational opportunities for county students, a culinary training program and an employment center and training facility for local residents. If this agreement is kept, and I think it will be, not only will the current residents of Prince George's County benefit, but future residents, as well.
Getting an agreement like this must not have been easy for Mr. Baker and his staff, and I am sure they didn't get everything they wanted, but it's much better than anything I've read concerning what others have negotiated with casinos that are located in their counties. Rushern Baker III is doing a tremendous job for residents of Prince George's County. I hope and I pray he can stay the course.
William Traveler
Landover, Md.
Redskins Name Warrants Change
With regard to the article, "Redskins Vow to Keep Name despite Trademark Ruling," published in the June 26-July 2, 2014 edition by Stacy M. Brown, I'm one of many people who feel that the Redskins name should be changed. I really don't understand the team owner, Dan Snyder's, insistence on keeping the name if people, especially native Americans, find the moniker offensive.
Native Americans, just like any other ethnic group in this country, deserve to be respected. So if the Redskins' name is so disparaging as to have 50 Democratic senators and the United States Patent and Trademark Office – which has cancelled the team's trademark registration – press for the change of a label that's blatantly racist, then Mr. Snyder should fall in line and give respect where it's due. I'm sure he'd see things a lot differently if one of the other NFL teams enjoyed a name that offended his ancestry.
James Carter
Washington, D.C.
Marion Barry: D.C's 'Mayor for Life'
The article, "Barry Feted at Event Marking Book Launch" by Barrington M. Salmon and which appeared in the paper's June 26-July 2 edition, was definitely long overdue, and I was sorry to have missed the enlightening and thought-provoking conversation Marion Barry had with the Informer's publisher on June 23 at the Old Congress Heights School in Southeast.
Mr. Salmon's article seems to have captured the essence of the evening, which to me was a candid look into the life – the good, the bad and the ugly – of the District's most iconic politician.
Marion Barry has been a godsend to the voiceless and disenfranchised residents of the District, and in fighting for their rights and needs, he often put his and those of his own family on hold.
As someone who has had close ties with the District for more than 40 years, I've seen how Mr. Barry, as a four-term mayor, endeavored to turn a lackluster city in a thriving economic mecca.
Once he embraced the vision to bring positive changes to the District, Mr. Barry never let up until that vision was brought to fruition.
For that, and all of his accomplishments from securing adequate housing for the poor to ensuring that residents had an opportunity to work for the District government and improve the quality of their lives, he's truly deserving of the title, "Mayor for Life."
Thank you, Washington Informer, for continuing to showcase the best of all D.C. has to offer – and congratulations on 50 years of making both news and history in the nation's capital.
Robin Thomas
Prince George's County, Md.