Summer Soiree Draws Young Art Enthusiasts
D. Kevin McNeir | 7/2/2014, 3 p.m.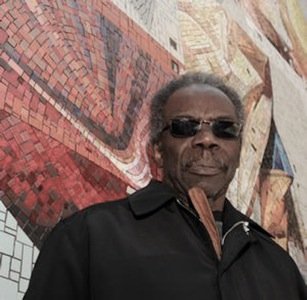 When an artist takes a blank canvas and transmits their vision through a vista of colors, shapes and sizes, the result can be magical.
It may take years of practice, sacrifice and commitment to convert a painting or sculpture into a recognized masterpiece but with a bit of luck, it sometimes finds a permanent home in a gallery, museum or among the collection of an art aficionado.
"My wife and I have never given our children traditional gifts – we've given them pieces of black art because we appreciate them and wanted them to do the same," said Tommy Heggans, a lifelong Washingtonian. "Young people need to be taught the basics and develop an understanding for the spirit of the arts until they acquire their own perceptions," said the 77-year-old Northwest resident.
Heggans joined more than 100 supporters of black art at the Smithsonian Castle on the National Mall on a recent Friday evening for Summer Soiree – an annual fundraising event. The proceeds benefit the Smithsonian's Anacostia Community Museum [ACM] in Southeast. The festivities included a silent auction, live entertainment and a program honoring G. Wayne Clough, secretary of the Smithsonian Institution and internationally acclaimed abstract artist Sam Gilliam.
"This was a new format from our normal luncheons at the National Press Club but we hoped that by making this an evening event and holding it in the heart of the city, that we could expand the age group of our supporters,"said Dr. Robert E. Steele, a member of the ACM's advisory board. "Anacostia was one of the very first community museums launched by the Smithsonian but the majority of our financial donors are older and retired. If we don't reach out to youth and create new programming and funding streams, our museum could face a slow death," said Steele, 71.
People of various ages and ethnic backgrounds attended the program, held on June 6, but they all had one thing in common – a desire to support the museum.
"Each member museum, including Anacostia, must raise a specific amount of money through a combination of grants and donations and every dollar helps," said Diane Scott-Jones, a North Carolina native now residing in Burtonsville, Maryland. "There's no admission fee to any of the museums and we aim to keep it that way. And there are many job opportunities behind the scenes that could benefit youth looking for a career."
However, raising money isn't the only challenge facing the ACM. They must also find ways to grab the attention of young people.
"I've lived in D.C. for four years but just recently took the time to visit the Anacostia Community Museum and I was blown away," said Aaron Gilchrist, a morning anchor for NBC4's News4 Today in Washington. "What the museum has done over the decades is incredible as they have maintained the rich history of their community," said Gilchrist, who served as the event's master of ceremonies.
Camille Giraud Akeju, the museum's director, said keeping the story of Anacostia alive and accessible remains her ultimate goal.