Wayne Curry, 63, First Black P.G. County Executive, Dies
Barrington M. Salmon | 7/2/2014, noon | Updated on 7/3/2014, 4:54 a.m.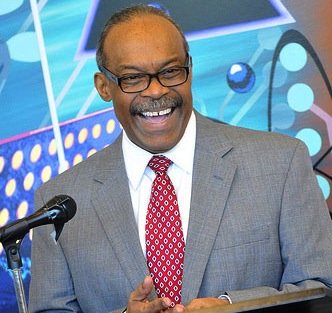 Condolences and accolades are pouring in for the man credited with transforming Prince George's County from a slow-paced, majority-white farming region and D.C. bedroom community into one that became the most affluent and educated majority black county in the country.
Wayne K. Curry, 63, died early on July 2. A corporate and real estate lawyer and political power broker, he served two terms, beginning in 1994. A two-pack a day smoker who quit smoking 11 years ago, Curry learned that he had lung cancer last summer. Following that revelation, he became an outspoken anti-smoking advocate, spreading facts about the dangers of smoking, the threat cancer poses to blacks, and publicizing cancer treatment disparities across this country.
Carolyn Mills Matthews said she's lost a good friend and Prince George's County has lost its most vocal and committed champion.
"Wayne was a savvy politician and a heartfelt politician. He's one of the few politicians who cared about all of the people in Prince George's County," said Mills Matthews, who said she'd known Curry since the age of 21. "I will remember Wayne as a very strong advocate and a very caring and pragmatic negotiator for this county."
"He was a very strong leader for people. He was one of those people anyone could talk to. Whether you were the president of the United States or a drunk, he could find common ground."
Curry chose to run for county executive without ever having held elective office, and without blessing or resources of a formidable Democratic establishment. On winning, Curry became the first black county executive and the only black elected official leading any county in the United States.
During his tenure, Curry spearheaded an explosion of upscale development across segments of the county, laid the initial groundwork for what would become National Harbor, and wrangled an agreement from Jack Kent Cooke, then-owner of Washington's professional football team to move to a new stadium in Landover – without sacrificing a dollar of taxpayers' money. Curry also managed to convince former NBA superstar turned businessman Earvin "Magic" Johnson to invest in the county, including the Magic Johnson cinema located at the Boulevard at the Capital Centre.
Prince George's County Executive Rushern Baker III, a protégé and close friend of Curry's, released a statement.
"For me, this loss is deeply personal. He was an amazingly generous friend, colleague and supporter. He was a mentor to me and to so many others," he said. "The passing of Wayne K. Curry is a genuine loss for Prince George's County, the state of Maryland and the Washington Region. He was more than a great leader and iconic personality in this county. He was a tremendously courageous and truly remarkable person who touched and changed so many lives.  As Prince George's County's first African- American County Executive, he was a visionary who raised the standards for the county and its profile locally and nationally." 
"This county and its residents owe him a tremendous debt of gratitude. He was a son of this great county and he was extraordinarily proud of it and devoted to it.  He constantly reminded us how important his hometown was to the region, and to the nation, because it symbolizes what so many people dreamed could happen in America: an affluent majority African-American jurisdiction. From National Harbor to FedEx Field, Wayne Curry laid the foundation for the Prince George's County we know today."
Mayor Vincent C. Gray also lauded Curry's contributions.
"Wayne Curry was a good friend to me personally, and to the District. Just recently we were attempting to schedule lunch," Gray said. "Sadly, this skilled and passionate leader is gone too soon.  Wayne cared deeply about the people of Prince George's County and they certainly will miss him. My thoughts and prayers are with his family and with our neighboring residents."