Annual P.G. County Jazz Festival to Begin in July
7/3/2014, noon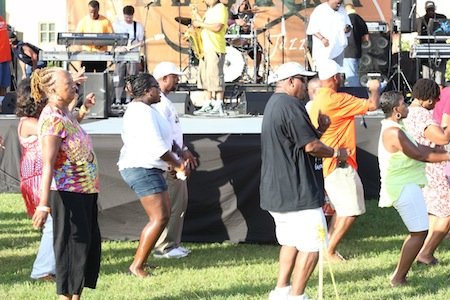 The Prince George's Cultural Arts Foundation in collaboration with The Maryland–National Capital Park and Planning Commission will come together for the fifth annual Lake Arbor Jazz Festival Thursday, July 11 through Saturday, July 13.
This year's festival will again be held at the Lake Arbor Community Center in Mitchellville. In its five-year history, the event has quickly become Prince George's County's premiere community-based music festival featuring nationally known jazz musicians and some of the region's most accomplished artists.
The festival aims to attract a diverse audience of contemporary and traditional jazz music lovers, young and old. The 2013 festival drew over 3,500 people from around the D.C. region and across the Mid-Atlantic.
"We're so pleased at how the festival has grown and become a new tradition for so many jazz lovers across the region," said Kevin Alexander, executive producer of the festival and president of the Prince George's Cultural Arts Foundation. "We hear from more and more attendees every year how much they enjoy the Festival and are proud that it's happening in the heart of Prince George's County."
This year's festival line-up includes three days of live performances, including Brian Lenair, Nick Colionne, Jazz in Pink, Marcus Anderson, Avery Sunshine and Afro Bop Alliance. In keeping with its annual tradition, the festival will also feature emerging talent in jazz-fusion band, Tribe.
The festival will kick off with a jam session on Thursday July 10, 7-11 p.m., at Jazzy's Lounge in Bowie. A summer white performance at the Newton White Mansion in Mitchellville will take place the following day at 8 p.m. The festival culminates in an outdoor concert on Saturday, July 12 from noon to 9 p.m. at the Lake Arbor Community Center. The Friday and Saturday events will be hosted by WHUR radio personality Tony Richards.
Proceeds from Friday's event will benefit the Prince George's Cultural Arts Foundation Scholarship Fund.
For more information, visit www.lakearborjazz.com.